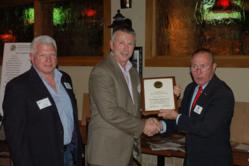 Kansas City, Mo. (PRWEB) November 20, 2012
Grantham University was recognized for sponsoring the Greater Kansas City Chapter of the Association of the United States Army's (KCAUSA) 2012 Army Birthday Celebration. Grantham's Vice President of Admissions and Education Outreach, Les Hyde, was on hand to receive the award during a corporate member appreciation reception in Olathe, Kan. on Monday, November 12, 2012.
"At Grantham University, we feel passionately about serving those who serve," said Hyde. "Sponsoring KCAUSA's Army Birthday Celebration is a special way for us to show our gratitude and commitment to our Nation's service members."
For the last six decades, Grantham University has been committed to meeting the educational needs of service members, veterans, wounded warriors and military spouses. The University continues to expand and grow its degree program offerings, student support structure, and military scholarship opportunities to better meet the needs of those who serve. Earlier this year, Grantham was named one of the "Top Military-Friendly Universities" by Military Advanced Education magazine for the fifth consecutive year.
For more information about Grantham University and its degree programs, visit http://www.grantham.edu or call 800-955-2527.
About Grantham University:
Established in 1951, Grantham University specializes in online education for the working adult student. Grantham's online undergraduate and graduate degree programs include: Accounting, Business Administration, Criminal Justice, Computer Science, Engineering Technology, Allied Health, Information Technology, Medical Coding and Billing, Nursing, Human Resource Management and Business Intelligence. Accredited since 1961 by the Accrediting Commission of the Distance Education and Training Council, Grantham University has compiled a distinguished record as a respected and accredited distance learning university spanning six decades of service to education.
###