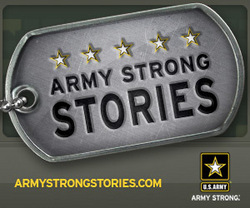 The U.S. Army is committed to giving our Soldiers and supporters a chance to tell their Army story
Fort Knox, KY (PRWEB) May 6, 2010
A major update to ArmyStrongStories.com, the U.S. Army's innovative blog that presents a unique way of telling the Army story, takes effect today.
As the first official Army Soldier blog, ArmyStrongStories.com has a brand new interface that opens the community to more voices. From Soldiers to civilians, now anyone with an Army story to share will be able to visit the website and submit their story. The new Army Strong Stories has an updated look, easy-to-navigate layout, and greater integration with video and Facebook.
"The U.S. Army is committed to giving our Soldiers and supporters a chance to tell their Army story," said Lieutenant General Benjamin C. Freakley, U.S. Army Accessions Command Commanding General. "The strength of our Army is its Soldiers. Their stories are compelling and real. ArmyStrongStories.com provides a venue for Soldiers and their families, friends, and followers to share their stories in an unfiltered, honest, inside the wire look at life in the military."
Army Strong Stories brings together Soldiers and Army supporters to connect and interact online with fellow Soldiers, recruits, family, friends, community leaders and others interested in Army service. Whether someone is a Soldier, Soldier's spouse, family member, friend or troop supporter, they can visit the Army Strong Stories community and share their story through written or video submissions.
"Everyone connected to our Army is invited to visit ArmyStrongStories.com and share their story," said Lieutenant General Freakley. "Your experiences - as a spouse, parent, grandparent, child or friend of our men and women in uniform - are invaluable to all Army supporters. We're pleased to offer a program that brings these stories to life in an online platform that encourages conversation and participation."
More than 160 Soldiers have signed up to participate in the Army Strong Stories program, with backgrounds ranging from medical and human resources to legal and public affairs.
"We anticipate this platform will contain topical, relevant and realistic discussions about issues and events facing our Soldiers and those influenced or impacted by their service to this Nation," Freakley said.
The Army Strong Stories community is a part of Accessions Command's overarching digital strategy that includes several online and social marketing initiatives, such as goarmy.com, facebook.com/goarmy and myspace.com/usarmy. These initiatives are designed to share the Soldier story in an authentic and meaningful manner, using social media and digital communication.
About U.S. Army Accessions Command (USAAC)
The U.S. Army Accessions Command (USAAC), a subordinate command of U.S. Army Training and Doctrine Command, meets the human resource needs of the Army by transforming volunteers into officers, warrant officers, and enlisted Soldiers. In providing the force, the 18,400 men and women of Accessions Command prepare these future Soldiers and leaders for their initial military training. Commanded by Lt. Gen. Benjamin C. Freakley, USAAC is located at Fort Knox, Ky., and Fort Monroe, Va.
###