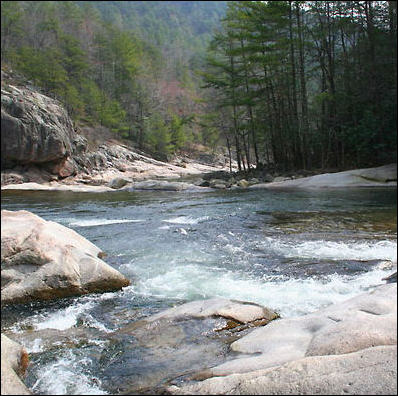 That's why we're excited to have reached this point and to introduce this final phase.
Charlotte, NC (PRWEB) April 4, 2007
Scores of guests from across the Southeast will descend on popular mountain resort properties near Lenoir, NC this month. Investors and others with a deep appreciation for the majestic mountains of NC will spend Saturday, April 21 at one of the state's fast-growing communities - The Bluffs of Wilson Creek located in Collettsville. Developers have teamed with a Piedmont area marketing firm to arrange a public preview of phase three lots for the successful project. Michigan-based Conroy and Associates, Inc. selected aro Solutions of Charlotte beginning in 2006 to market each phase of the project, now in its third - and final - phase.
Located in the foothills of NC's breath-taking Blue Ridge Mountains and bordering the 85,000 acre expanse of the Pisgah National Forest, The Bluffs of Wilson Creek makes an idyllic setting for nature lovers. Here, families and individuals who value beauty and privacy can also find endless opportunities for enviable outdoor living from hiking in the Pisgah, canoeing on the James River, to nearby snow skiing, horseback riding and fishing.
"We have been successful at targeting buyers for this one-of-a-kind investment," comments Albert Mickalich, founder of Michigan engineering firm Mickalich and Associates and co-principal of The Bluffs of Wilson Creek, LLC. In 1994, the developer began sales of its phase one properties - 60 lots from 3 to 11 acres in size, ranging in price from the $50s to the $120s. Today the project is poised to scale still greater heights with a final 100 lots where homeowners can take advantage of the very best mountain living in the eastern US.
Developers for the project number eight from Michigan, Connecticut and North Carolina, including co-principal Albert Mickalich together with Michigan landscape architect Pat Conroy. Over the years, both these professionals have enjoyed successful, long-term relationships with developers and homebuilders, as well as other well-known commercial entities. This month their shared vision for this latest project moves closer to a successful conclusion with the upcoming preview event, featuring the unique living and investment opportunity available at The Bluffs of Wilson Creek.
"It is indeed a tremendous investment opportunity," states aro President Chuck Robbins. "That's why we're excited to have reached this point and to introduce this final phase." Detailed information about The Bluffs of Wilson Creek may be found at http://www.landatthebluffs.com.
A marketing services and consulting boutique, aro offers research, marketing planning, branding and public relations. The firm specializes in providing these services for small businesses in a variety of industries, including real estate, emerging technology, retail, sports, entertainment, financial services and human capital companies. Visit the aro web site at http://www.consultaro.com, or contact Chuck Robbins at 704.839.3520.
Media Contact:
Chuck Robbins
aro Solutions
704.839.3520
# # #