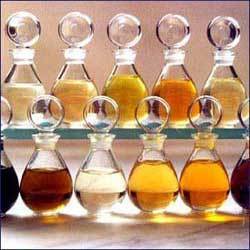 Dr. Power, Thank you for a wonderful learning experience. You were quite generous in sharing information on many levels and that was greatly apprecited. I look forward to staying in touch. A.W. Asheville NC
Atlanta, GA (PRWEB) April 21, 2010
Joie Power, Ph.D., aromatherapy consultant and retired neuropsychologist, presents in-depth seminars that provide a solid foundation in the basic practices of aromatherapy and the actions of essential oils. This aromatherapy seminar combines solid scientific data, practical clinical techniques and a holistic approach to the healing arts.
Dr. Power begins the aromatherapy workshop with an overview of aromatherapy and its place in modern herbalism followed by an easy-to-understand explanation of the physiological actions of essential oils, with an emphasis on their effect on the central nervous system. We'll look at practical methods for using essential oils including a comparison of the effectiveness of internal vs. external use (you'll be surprised!) and step-by-step guidelines for safe and effective external use. You'll learn how essential oils act on viral and bacterial infections, pain, inflammation, emotional distress and other conditions. The aromatherapy workshop includes in-depth discussion of some of the most versatile essential oils including lavender, rosemary, eucalyptus, tea tree, peppermint, thyme and chamomile and other essential oils with a wide range of applications for common health issues. During this aromatherapy workshop, drawing from her 20-plus years of study and practice, Dr. Power shares priceless information about how these essential oils are used in medical settings.
Aromatherapy Workshop Schedule:
Level I: April 24-25; July 24-25; Oct. 23-24
Level II: Sept. 11-12; Nov. 20-21
Level III & Level IV: 2010 & 2011
Locations:
April Workshop: Rabun Gap GA (2 hr. from Atlanta GA and Asheville NC)
Future Workshops: Asheville NC
Cost: $175.00 to $225.00 / Workshop Registration
In addition to teaching Aromatherapy Workshops, Dr. Power also provides:

Product development for companies wishing to create natural products utilizing essential oils, herbal products or aromatherapy blends
Personal business coaching to those wishing to create new products or businesses in the natural products field
Mentoring to Aromatherapists and others in alternative healing
Aromatherapy / Natural Healing presentations and workshops to healthcare groups and healthcare facilities
Editing and/or ghost writing of articles and books in the fields of aromatherapy, herbal medicine, natural healing, & the neurosciences
Latest developments at The Aromatherapy School include the introduction of a select few Artisan Essential Oils direct from the growers and distillers. The school's Artisan Essential Oils include yarrow, rose otto, palo santo, juniper berry and more. The most exquisite of all are all natural tuberose and gardenia, both produced by the ancient method of enfleurage using no chemical solvents. Enfleurage is a technique of extracting the aromatic oils from flowers that goes back thousands of years to the days of the pharaohs in Egypt. It works on the simple principle that fats dissolve essential oils and thereby absorb their aromas.
Enfleurage is used on certain flowers because some fragrant compounds denature when heat is applied and almost all fragrance is lost if steam distillation is attempted. Today most essential oils that are extracted from flowers that are too delicate for steam distillation are done so by solvent (chemical) extraction. These oils, extracted by solvents, are called absolutes. The production of absolutes, while still quite expensive, is cheaper than the old method of enfleurage but, of course, the resultant oil can no longer be considered organic and there is always a hint of "chemical" smell to the aroma of the oil. The flowers that cannot withstand steam distillation for the extraction of their oils but for which enfleurage is appropriate include: Gardenia, Tuberose, jasmine, narcissus (daffodil/jonquil), lily of the valley, mignonette (birthday flower), cassie, violet & carnation. Rose and neroli (orange blossom) are available both as fine distilled oils and as absolutes.
Today only a few producers use the ancient technique of enfleurage because it is quite labor intensive and therefore quite costly but the exquisite results are truly worth it. The aroma of the oils extracted by enfleurage smells exactly like the flower. Close your eyes and you can't tell the difference. Just one drop of Gardenia or Tuberose oil makes a wonderful perfume. In addition to the extraction process being labor intensive, a lot of plant material is needed to produce the oil. In one study, 1000 kilos of Tuberose blossoms yielded only 801 grams of oil.
After an extensive search, The Aromatherapy School has found one small producer in South America that uses a modern version of the ancient technique of enfleurage to produce completely organic oils of Gardenia and Tuberose. On his small farm (and surrounding farms), he grows the Gardenias and Tuberoses and then processes them using palm oil as the fat and pure alcohol derived from local sugar cane. By using all local products, he helps to support the local economy and small farmers and gives employment to those who have been devastated by warfare in the area.
To experience the exquisite aromas of Gardenia and Tuberose you can make your purchase on our Essential Oils web page: Artisan Essential Oils
###