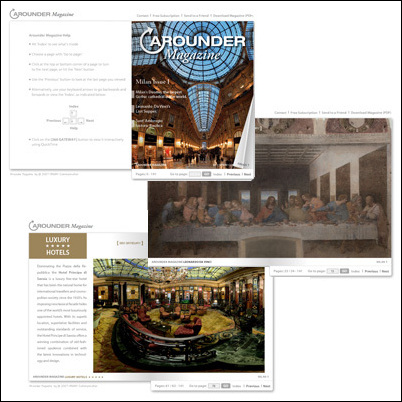 We spent a great deal of time researching what people actually wanted from an online experience
Lugano (PRWEB) January 25, 2007
Arounder Magazine, published by the makers of the web site Arounder.com (http://www.arounder.com), is a new kind of travel guide, drawing users out of their armchairs and into hot spots in great European cities. Issues come alive with breathtaking 360 degree, 3D panoramas of everything a traveler could want to do and everywhere a traveler could want to sleep, eat or play. Issue #1 features Milan and is available now (http://www.aroundermagazine.com/Milan). Subsequent issues will feature other European, North American and South Asian cities and will be released beginning in February.
Arounder Magazine represents a true revolution in publishing and takes full advantage of the potential for presentation on the World Wide Web. Many magazines make their words and their pictures available to Internet surfers. But Arounder Magazine presents a kind of photographic panorama only possible on the Internet and which engage readers in a whole new way.
"We spent a great deal of time researching what people actually wanted from an online experience," said Marco Trezzini, editorial director and Chief Operating Officer for VRWAY, a company specializing in the new generation panoramas. "They wanted to do more than watch, read and listen. They wanted to be able to interact with their environment in a realistic manner. We believe we have created a new generation of magazines, changing the way readers interact with them."
VRWAY Communications (http://www.vrway.com) is publisher of Arounder Magazine.
The online magazine has a unique presentation, mimicking the page-turning convention of traditional magazines. Users see beautiful flat panoramas of famous sights on each page. Clicking on the 360Gateway link brings those outstanding images to life, transporting readers into Quicktime-powered full screen virtual reality. Readers move through locations in real time, scrolling left and and right and up and down and zooming in on interesting areas, as though they were right there.
Imagine, instead of merely seeing a 2-dimensional, flat picture of Milan's Duomo, being transported to the inside of the Duomo and being able to see all sides of the Cathedral, complete with sound. It's the difference between "very nice" and "Wow!".
Arounder Magazine features content from the celebrated panorama web site, Arounder (http://www.arounder.com). That site features panoramic images from various cities around the globe. On that site, photographs are organized geographically. The magazine is a chance to present the images in a context that makes sense to visitors. Both the web site and the magazine are produced in cooperation with cities' visitors and tourism bureaus.
"Initial circulation of the magazine is 150,000. We believe that number will grow substantially with each new issue," Trezzini said.
New issues of Arounder Magazine will be released starting in February. Photographers will soon add cities in North America and on the Indian subcontinent to their already extensive catalog of great European cities.
To sign up for a free digital subscription, visit http://www.aroundermagazine.com
Contact:
Marco Trezzini
Arounder Magazine
VRWAY Communication
Via Besso 59
6900 Lugano
+41 91 961 61 61
contact(at)aroundermagazine.com
###