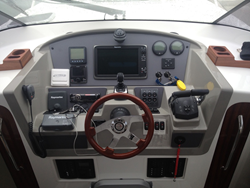 What we feel we have here is a travelogue opportunity.
Everett, WA (PRWEB) April 30, 2014
ArrowCat Power Catamarans today announced intentions to drive a 32' twin outboard catamaran from Everett, WA to Kachemak Bay in July 2014 which is a 1,600 mile journey.
The trip is in part to deliver a new 32 Express twin outboard power catamaran to Halibut Cove but also to prove just how easy it is to make the trip.
Along the way we will stop in Yakutat, Sitka and a few other places to show off and demonstrate the boat. We are looking for partners willing to help market the events along the way and help us with photo and journalistic documentation.
"What we feel we have here is a travelogue opportunity." says Travis Brandt, ArrowCat's Director of Factory Sales and Marketing. Brandt is slightly familiar with the weather and conditions as he is a Coast Guard Veteran having been stationed on Kodiak from 1994 to 1998. He also did a very short assignment on the Coast Guard Cutter Roanoke Island and a complete tour as a Quartermaster Of The Watch (QMOW) on one of its sister ships. "Besides being a little nervous about forecasting weather along the notorious route, we are excited to be able to have a willing owner who is letting us take this unique adventure sans himself and wife. It is going to be exciting and we request that any interested party contact us directly and stay tuned for further details."
If you are interested in helping or being involved in or taking a demonstration along the way, contact Travis Brandt directly at travisb(at)arrowcat(dot)com or 1 877 277 6999 x60.
ArrowCat Power Catamarans is a leading NMMA certified builder of power catamaran boats designed by world renowned Roger Hill and engineered by world renowned Gurit (formerly Hi-Modulus). ArrowCat's are hand crafted by ArrowCat Marine. Founded in 2007 ArrowCat are proven on seven seas and four oceans and have achieved CE category B. For more information visit http://www.ArrowCat.com or call (877) 277-6999. ArrowCat US Base of Operations is 2525 Broadway, Suite 3302, Everett, WA 98201
###