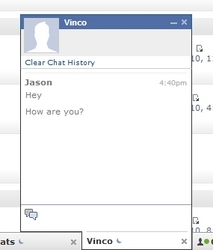 ArrowChat is a pop out chat service that is placed at the bottom of a Web site
Glendale, AZ (PRWEB) March 24, 2010
ArrowChat.com announces the launch of ArrowChat, a new jQuery-based chat software for Web sites. Featuring a fully customizable script, a variety of modifications and themes and an easy installation process, ArrowChat provides businesses of all sizes a reliable, fully featured chat service.
"We've designed ArrowChat to be the leading chat software for Web sites. Its customizable script and wide selection of modifications and themes make it a wise choice for application or integration into any Web site," says Jason Stackman, CEO and Founder of ArrowChat.
Similar to Facebook Chat, ArrowChat is a pop out chat service that is placed at the bottom of a Web site, making it easily and readily accessible to those who are using it. The script is fully customizable and scalable from within the software's administration panel, which enables users to create a system best suited to their needs. Among other features, ArrowChat can be customized with optional animations such as slideIn, slideDown, fadeIn, fadeOut and bounce animations. An applications menu with either links or full pop out applications can also be added to ArrowChat. Users can also create and add their own applications with ease and can download a variety of modifications, themes and plugins from the company's store.
ArrowChat can also be customized to include a number of different user options and notifications. Users can receive notifications such as friend requests, new messages and more. In addition, ArrowChat can show when a chat member is idle or typing. Users can also toggle to hide or show their chat with the software's Hide Chat option. If circumstances are necessary, users or groups can be banned.
ArrowChat software can be incorporated into a number of integrations, including vBulletin(3.8 and 4), JomSocial, phpBB, WordPress and IP.Board. While not required for use with ArrowChat, any of these integrations will make the installation process easier.
ArrowChat uses PHP and mySQL and requires PHP version 4.3.3 or greater for installation. A user's site does not have to be written in PHP as long as the server has it installed. ArrowChat also currently requires one mySQL database and, in order to maximize its performance and quality, one sub-domain. Additional database options and an ArrowChat version without a sub-domain requirement will be added in the near future.
For more information about ArrowChat or its customizable and scalable chat platform, visit http://www.ArrowChat.com.
# # #