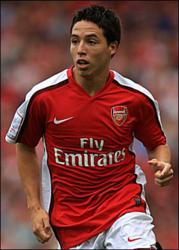 (PRWEB) July 12, 2011
UK news website, Newspanel, reports that Arsenal French starlet Samir Nasri will be heading to Manchester United in a deal worth 20–25 million pounds.
Newspanel confirms the rumors that Manchester United placed a bid for Nasri around 2 weeks ago.
Initially, United inquired about Nasri when the French ace publically stated his desire to leave Arsenal.
It was widely claimed that Nasri wanted to join United a few days after he publicized his wish to leave Arsenal after two seasons. This prompted United to make their move for the player.
United has a strict policy when it comes to bidding for players and making possible transfer targets public. They also tend to bid for possible targets if they state themselves they are interested.
United has been longing for a decent, reliable midfielder since the days Roy Keane hung up his boots. With Red Devils legend Paul Scholes announcing his retirement at the end of the season, it would be unimaginable to see Manchester United going into the new season without signing a midfielder.
Nasri, who flew into London from his long holiday break in Las Vegas, had a showdown talk with Arsenal boss Arsene Wenger. Wenger had hoped a 120,000 a week wage packet would be enough to keep Nasri, but it didn't make a difference, as Nasri restated his wish to leave.
There were reports that Manchester City was prepared to offer around the 30m mark for the player but Nasri wanted to join Manchester United only.
The deciding factor for Arsenal to give up on keeping Nasri is the fact that he has only one-year left on his current deal. If they didn't make him go this season they would virtually see another Matthew Flamini style deal taking place with one of their star players leaving on a free transfer.
Arsenal was reluctant to sell to another Premier League rival, let alone Manchester United, but ultimately Nasri held the key in where he would move next.
Nasri has agreed terms on a 120,000 a week deal at Manchester United. The deal will be finalized within 2 weeks, or maybe sooner, when Arsenal finds a suitable replacement (thought to be Juan Mata of Valencia) to fill in the gap Nasri left.
For the full story on Nasri leaving Arsenal for Manchester United visit Newspanel.com
Contact:
Newspanel
07565924433
###