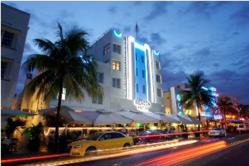 From Trip Advisor reviews: "Beyond my expectations! Everything you need and want... and more!", from Kay in New York
Miami Beach, FL (PRWEB) November 16, 2011
Art Basel Miami Beach, the most prestigious art show in the Americas, will mark its 10th edition on Dec 1-4, 2011 in Miami Beach, Florida. Art Basel Miami Beach is the perfect choice for all art enthusiasts as they can enjoy several renowned art exhibitions, from the inauguration of the Bass Museum of Art to Art Video Presentation and more. Stay at the Beacon South Beach Hotel and enjoy extra perks
Art Basel Miami Beach is just not an art show.
With more than 260 leading galleries from North America, Europe, Latin America, Asia and Africa, the event showcases works by more than 2,000 artists of the 20th and 21st centuries. And every year, a greater number of art collectors, artists, dealers, curators, critics and art enthusiasts from around the world participate in Art Basel Miami Beach - the favorite winter meeting place for the International Art World.
What's in store for you?
This year, in the special exhibition section, the Art Basel Miami Beach will feature young galleries, performance art, public art projects, video and sound art. Also on show are exceptional pieces by both renowned artists and cutting-edge newcomers. Top-quality exhibitions will be held in the museums of Miami Beach with special programs for art collectors and curators.
For the first time, Art Video will be presented in SoundScape Park on the large-scale outdoor projection wall of the New World Center, designed by Frank Gehry. The free public viewings will be part of a number of special events and performances taking place across Miami Beach for the duration of the show to celebrate the 10th edition.
Art Basel Miami Beach 2011 presents international galleries with an exciting special exhibitions, parties and crossover events featuring music, film, architecture and design. The show will be a vital source for art lovers. It'll allow them to both discover new developments in contemporary art and experience rare museum artworks.
New To Art Basel Miami Beach
The exhibition site is located at Miami Beach Convention Center in the city's beautiful Art Deco District which is within walking distance of The Beacon South Beach Hotel in Miami Beach.
About Beacon Hotel South Beach
The Beacon Hotel on Ocean Drive gives you South Beach how it is meant to be experienced. Seven miles of sand and surf, unrivalled nightlife, premier shopping and exquisite cuisine makes the Beacon Hotel a premier vacation destination in South Florida. This Beachfront Property is located on 720 Ocean Drive; the Beacon Hotel South Beach blends timeless elegance of the Art Deco era with the modern chic deco of South Beach and offers luxury accommodations, gourmet dining, deluxe spa amenities and personalized concierge services to each of our guests.
Find out about your favorite art galleries here: http://www.artbaselmiamibeach.com and avoid last minute hassles and book your tickets and hotel stay today. Visit South Beach Miami and enjoy the most awaited art show coming up this December!
###