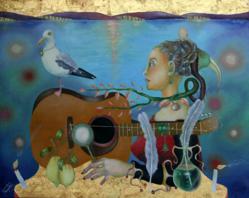 Jean-Marc Brugeilles has traveled extensively in Europe, carefully studying European masterpieces and techniques
Fairfax, CA (PRWEB) November 04, 2011
Marin's Contemporary Art Galleries elsewhere Gallery has extended Jean-Marc Brugeilles' "Supercosmos of Dreams" through November 29 and will host a reception on Friday, November 4. His unique and exciting art work will be enhanced by refreshments reminiscent of a French bistro and will be accompanied by the wonderful cello music of Ann Learner-Wright.
"Jean-Marc Brugeilles has traveled extensively in Europe, carefully studying European masterpieces and techniques," says Lake Hanyu. "He has recently relocated to the Bay Area, and elsewhere Gallery is proud to host his first solo show outside of Europe."
Brugeilles has an extraordinary imagination, and his works portray an enchanted and timeless universe of inner worlds and life memories, inspired to a great extent by dreams. He is able to capture that illusive, surreal quality of dreams – which nearly remembers, but then in a moment disappears.
Eclectic experiences from his extensive travel and careful study of European masterpieces have led to the 17th century Middle Age techniques which Jean-Marc incorporates in his art. His involvement with every step starts with the creation of his canvas. His large paintings begin with hand-stretched lines of gesso, "cooked" from a recipe used for centuries. His oil paints are combined with hand-mixed pigments, resulting in a vibrant and truly brilliant work.
elsewhere Gallery is a mecca for art enthusiasts throughout Marin County and the greater San Francisco Bay Area and has been selling and consulting on local fine art since 2008. Located in downtown Fairfax, less than 20 miles north of the Golden Gate Bridge, elsewhere Gallery is at the heart of this little eclectic town favored by artists and musicians throughout the area. From local artists to supporters of local art, there's something for everyone to truly appreciate at elsewhere Gallery.
For more information about the exhibition and anything about elsewhere Gallery, give them a call at (415) 747-8696 or visit them online at http://www.elsewhere.com. They are located at 1828 Sir Francis Drake Blvd. Fairfax CA 94930.
About elsewhere Gallery
Marin's elsewhere Gallery is a contemporary art gallery located in downtown Fairfax, an eclectic town favored by artists and musicians who have been drawn to this little village north of San Francisco. Many undiscovered artists, energized by this environment, have also become part of the wide range of art collections available at elsewhere. The philosophy and mission of elsewhere — to show works of high quality by local artists — has resulted in an ever-changing variety of fine and interesting art. Monthly receptions with live music are held on the first Friday of the month, 6 to 9 p.m.
###