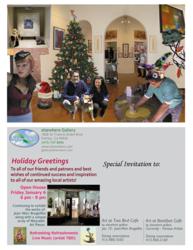 Because a lot of us are experiencing challenges in many ways, elsewhere Gallery would like to share our greetings and good wishes with artists and art lovers alike
Fairfax, CA (PRWEB) December 23, 2011
Marin contemporary art gallery, elsewhereGallery, located at 1828 Sir Francis Drake Blvd. in Fairfax, presents a "New Year's Greeting" and a closing reception for "You Can Have Your Art and Wear It, Too!" on Jan. 6, 2012, from 6-9 p.m. The event is free, and anyone may attend.
"Because a lot of us are experiencing challenges in many ways, elsewhereGallery would like to share our greetings and good wishes with artists and art lovers alike, in the hope of promoting positive changes in all of our lives through the enjoyment and celebration of art and music and each other's company," Lake Hanyu of elsewhereGallery said.
While wising everyone well as the New Year arrives, elsewhereGallery would like to offer yet another opportunity to view unusual and imaginative creations in a closing show for "You Can have Your Art and Wear It, Too!" This is a chance to celebrate the New Year with good friends, fine art and great music by local legend Otis Scarecrow and his friends.
elsewhereGallery gathers artists who possess great talents for crafting beautiful art collections for art lovers. Collections includes various artworks that have been engraved, drawn, painted and designed by local artists in Marin.
For more information about the New Year's greeting reception or any of elsewhereGallery's products, call 415-747-8696, view the gallery on the web at http://www.elsewhere.com or visit 1828 Sir Francis Drake Blvd., Fairfax, CA 94930.
About elsewhereGallery
elsewhereGallery, located in Fairfax and managed by proficient Lake Hanyu, gathers undiscovered artists and musicians to showcase their talents through visual arts. Its philosophy and mission is to show top-notch artwork by local artists. It features fine leather, jewelries, paintings, sculptures and more. It usually holds monthly receptions every first Friday.
# # #