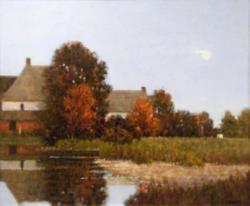 Charlotte, NC (PRWEB) May 16, 2013
McColl Fine Art, a gallery located in Charlotte, NC is thrilled to announce they will be representing artist, Donald Jurney. Jurney is well known for his ability to create exquisite landscapes that marry the traditions of landscape painting and modern influences.
There is no question that Jurney's work is firmly rooted in the great landscape tradition, from Dutch 17th century painting through the Barbizon and Hudson River Schools, to late 19th and early 20th century French and American impressionism. His work is also influenced by modern painting, infusing his paintings with detail and clarity.
It is the partnership between timeless technique and lively surface that distinguishes Jurney's work from both his predecessors and his contemporaries, making his paintings very much a representation of this period's fine art, and instantly recognizable. He is a leading classical artist of today.
Jurney's paintings are a unique and beautiful view of the world rich in realism and attention to detail. McColl Fine Art carries traditional fine art ranging from the 19th and early 20th centuries to present day classical contemporary works of art. To see their collection of Jurney's works, please visit: http://www.mccollfineart.com/artists/donald-jurney/
About the company:
McColl Fine Art is one of the premier fine art galleries in the country. Located at 126 Cottage Place in Charlotte, NC, McColl Fine Art specializes in fine American and European paintings with a primary focus on 19th century art and select works from early 20th centuries, as well as Classical Contemporary works of art. They offer works of exceptional quality from periods including the Barbizon School, the Hudson River School, Academic painting, Impressionism and Post-Impressionism. For an experience unlike many other art galleries, please visit their website at http://www.mccollfineart.com for more information.