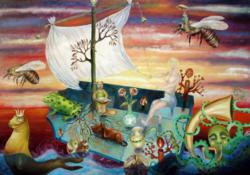 Fairfax, CA (PRWEB) October 20, 2011
The opening of Jean-Marc Brugeilles show at elsewhere Gallery on October 7, 2011 was an event enjoyed by all who attended-- his unique and exciting art work enhanced by refreshments reminiscent of a French bistro and great music by Dore Coller and Ned Ripple. Because of the enthusiastic response, elsewhere Gallery will keep the show running during the month of November. All are invited to another great reception with Jean-Marc himself on Friday, November 4th.
"Jean-Marc Brugeilles has been living in Lyons, France and traveled extensively in Europe for years carefully studying European masterpieces and techniques. He has recently arrived in the Bay Area, a new artist to elsewhere Gallery, which is proud to have the opportunity, outside of Europe, to showcase his extensive collection of artworks," said Lake Hanyu of elsewhere Gallery.
Living in France, Jean-Marc Brugeilles has developed his creativity and love for art from his travel experiences and careful study of masterpieces from Europe. He incorporates 17th century Middle-Age techniques in his art and portrays fascinating and flamboyant styles coming from his extraordinary imagination. Jean-Marc has created large paintings using hand-stretched lines of gesso and oil paintings with hand-mixed pigments that create a vibrant and truly brilliant work.
For more information about Elsewhere Gallery's upcoming event, call (415) 747-8696 or visit http://www.elsewhere.com.
About elsewhere Gallery
Marin's contemporary art gallery, elsewhere Gallery located in downtown Fairfax, an eclectic town favored by artists and musicians who have been drawn to this little village north of San Francisco. Many undiscovered artists, energized by this environment, have also become part of the wide range of art collections available at elsewhere. The philosophy and mission of elsewhere — to show works of high quality by Marin's local artists — has resulted in an ever-changing variety of fine and interesting art. Monthly receptions with live music are held on the first Friday of the month, 6 to 9 p.m.
###