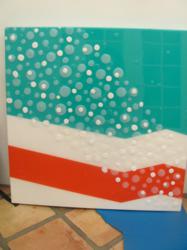 Nieto Fine Art challenges itself to find and display the most unique and inspiring pieces of work in the San Francisco Bay Area
San Francisco, CA (PRWEB) March 30, 2012
Nieto Fine Art, a premier San Francisco fine art gallery, welcomes "Painted & Poured," a fine art show by the visual, mixed media artist known as Lola. Comprising a focused selection of approximately 20 works, the exhibition highlights this abstract artist's use of resin to demonstrate her appreciation for bright colors. "Painted & Poured" offers a rare opportunity to explore Lola's dynamic vision, as well as understand her approach to abstract creations. The exhibit will be on view at Nieto Fine Art's Sutter Street gallery from April 6 through May 4, with an opening reception on April 6, from 6 p.m. to 8 p.m. All are welcome.
"Nieto Fine Art challenges itself to find and display the most unique and inspiring pieces of work in the San Francisco Bay Area," Nieto Fine Art gallery owner and curator Anaya Nieto said. "We hope this exhibition contributes to increased appreciation for Lola, whom we welcome exclusively to the gallery."
Lola, a New York-born artist, graduated from Syracuse University with a degree in art history, before being introduced to mixed media 15 years ago, when she began art as a career. Drawing inspiration from the contrast of strong lines with defining shapes, mixed with natural, random experimentation, Lola developed methods of creating a "third dimension" to her abstract work. A self-taught artist who prefers the use of resin to create texture and depth, Lola prides herself in the freedom of approaching art without being confined to traditional techniques.
"Resin provides dimension and fluidity," Lola said. "It lends a kind of motion that defies predictability, while simultaneously holding the art in static form."
"Painted & Poured" is curated by gallery owner Anaya Nieto, who comes from an artistic background. Last month, Nieto curated the highly anticipated, first-ever "Spirit of a Gene" exhibition with father John Nieto and brother John A. Nieto.
For more information about the fine art exhibit or Nieto Fine Art, call 415-393-4511, view the fine art gallery on the web at http://www.nietofineart.com or visit 565 Sutter St. in San Francisco.
About Nieto Fine Art
Nieto Fine Art is the premier art gallery located in downtown San Francisco. The gallery is years in the making, fulfilling the work of Anaya Nieto to invigorate the San Francisco art community with the works of his father, John Nieto, along with a dynamic line-up of painters and sculptors. Nieto Fine Art commits to bringing a fresh, changeable charge of emotion to the community of contemporary artists. Nieto Fine Art is open Tuesday through Saturday from 10 a.m. to 6 p.m. or by appointment.