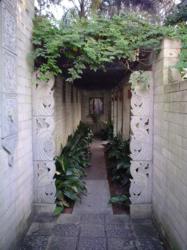 "Our Residency program celebrates the A&H's Maitland Art Center's history as a place where artists can live and work in an inspiring architectural environment replete with opportunities for collaboration and experimentation in art."
Maitland, FL (PRWEB) January 23, 2013
The Art & History Museums – Maitland (A&H) proudly announces the implementation of a new Artist-In-Residence program, to begin in April in 2013. The program honors the legacy of founder J. André Smith, and the 75th anniversary of the Research Studio's (now the Art & History Museums – Maitland) first Bok Fellow. This is the first formal, nationally competitive Residency program at the A&H since Smith's fellowship program, which was funded by Mary Curtis Bok from 1938 through 1957.
"Our Residency program celebrates the A&H's Maitland Art Center's history as a place where artists can live and work in an inspiring architectural environment replete with opportunities for collaboration and experimentation in art," says Andrea Bailey Cox, Executive Director & CEO.
The Research Studio, founded in 1937 by visionary artist and architect J. André Smith (1880-1959), benefitted from the generous financial support of philanthropist Mary Curtis Bok. The Research Studio was a lively colony that hosted artists of national prominence, including Milton Avery, Ralston Crawford, Doris Lee, Boris Margo and Teng Chiu.
"We are thrilled to bring this program back to the A&H campus, and the 75th anniversary of the first Bok Fellow is the perfect time to implement this program," Cox continues. "This program provides the chosen Artist-In-Residence a place to concentrate fully on their work within unique and beautiful surroundings. Artists-In-Action, students, instructors, and community members will have opportunities to meet, engage with, and learn from these prominent, nationally acclaimed artists."
The first artist chosen for the Artist-In-Residence program is Josette Urso. She begins her residency on April 28 and continues through June 2, 2013. Urso creates paintings, drawings and collages working directly and urgently in response to her environment. For Urso, space is a malleable substance that she delights in manipulating acrobatically in a kind of gymnasium of mark making and image collision all governed by intuitive leaps of scale, color, and a wayward geometry. Her approach involves "moment-to-moment" extrapolation where the contrasts and cross-fertilizations are cumulative, non-linear, free flowing and interpretive. She strives to discover and engage the known as well as the unknown in unforeseen ways. Urso has shown widely in the United States and abroad in galleries, public institutions, and museums including the New York Public Library, the Drawing Center, and the Bronx Museum for the Arts. She has had numerous grants including those from the NEA, Basil H. Alkazzi and the Pollock-Krasner Foundation as well as the Camargo Foundation, Ucross and Yaddo. She has vast experience with residencies both the United States and Europe, including: Oberpfãlzer K¨nstlerhaus/Germany (2008 and 1993), Stock 20/ Taiwan (2006), American Artists Abroad: AIBP/ Cambodia (2004), Weir Farm Trust/ CT (2003), The Ballinglen Arts Foundation/ Ireland (2002 and 2000), Ucross Foundation/ Wyoming (1995), The Camargo Foundation/France (1991), Millay Colony/ NY (1990), and VCCA/VA (1990).
A&H Curator of Art and Art School Director Rebecca Sexton Larson says, "Urso's proposal of a dynamic project, centering on her interaction with her surroundings and environment, as well as her national reputation for quality work and collaborations, earned her the honor of becoming our first Resident Artist in the new program."
During her tenure at the A&H, Urso will work in her studio and paint plein air, affording visitors an opportunity to see her create throughout campus. An official Plein Air Paint Day will be held on Saturday, May 11, from 10 AM to 1 PM, to encourage painters from around Central Florida to create alongside Urso. She will also hold a lecture on Wednesday, May 8, and the public is invited to attend. (Lecture time TBA).
"I am honored to be the first Artist in Residence of the A&H's new Residency program," says Urso. "While in Maitland, I will work primarily outdoors while making oil paintings, watercolors and drawings in direct response to my immediate surroundings. I look forward to interacting with the Central Florida community and am grateful for the opportunity to spend time working in such a historic location. The unique environment of the Art & History Museums – Maitland will no doubt have a lasting, positive impact on my work."
The A&H's Artist-In-Residence program will continue in December, 2013 with a three-week residence with Rhone Island artist Leigh Tarentino. An Assistant Professor at Brown University, Tarentino creates paintings and works on paper and digital prints constructed from photographs of the built landscape.
For additional information on the A&H's Artist-In-Residence program, visit http://www.ArtandHistory.org or phone 407-539-2181.
About the Art & History Museums - Maitland:
The Art & History Museums – Maitland is a premier Central Florida cultural destination and community gathering place, combining the best of both art and history. Our museums offer unparalleled opportunities for enrichment and inspiration. Our museums offer both changing and permanent art and history exhibitions. Programming includes art classes and workshops, hands-on history programs, interactive exhibits, professional artists working in their studios, and much more. Our two campuses include a 1937 artists' colony with Aztec and Mayan architectural influences, a Victorian house museum, a working antique tool museum, an interactive telephone museum, and a local history museum. There is something for everyone and each experience is well worth the trip.
The A&H's Maitland Art Center hours are Tuesday – Sunday, 11 AM – 4 PM. The A&H's Maitland Historical Museum, Telephone Museum, Waterhouse Residence Museum and Carpentry Shop Museum hours are Thursday – Sunday, 12 – 4 PM. Visit us online at http://www.ArtandHistory.org.
# # #