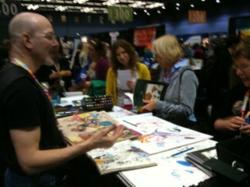 Cleveland, Ohio (PRWEB) October 31, 2011
Faber-Castell's Creative Academy Road Trip with Don Colley kicked off this October. The Creative Academy is a traveling workshop program sponsored by Faber-Castell. During the workshops, attendees get hands on with PITT® artist pens, POLYCHROMOS® color pencils, Albrecht Durer watercolor pencils, as well as Graphite, Charcoal and Pastels.
Don Colley, a professional artist from Chicago is traveling the country with his journals and PITT® artist pens. Don sketches in vintage journals and ledgers, documenting everyday life, as well as his travels. Traveling by planes, trains and buses Don will visit schools and art stores across the country. Don's travels have already taken him to Kentucky, Indiana, Minnesota, Florida, Georgia, Wisconsin, and North Dakota. Yet to come are journeys to Montana, Oregon, Washington and California!
Read all about Don's travels by and see his trip in sketches by visiting his webpage http://www.buttnekkiddoodles.com . Want to see Don in action, go to the Faber-Castell webpage and visit our video gallery!
###