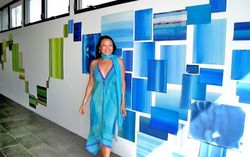 Venice Beach, California, (PRWEB) August 5, 2008
International artist, Angel Chen, introduces a limited number of exclusive hand painted silk dresses, bringing art, elegance, luxury and class in the form of feminine beauty to life. The "Couture Painting Color Portrait" is an interlocking system of both painting and gown made to exact specifications, uniquely created for color, form, and personal design. The painting, a wall installation of watercolor works on paper, a selection as dense or as spare a collection as one chooses, like blooms in a bouquet, are intermingled and selected with care for each individual. The silk gown is created for each special lady, a singular tribute to her own personal essence, in saturated hues inspired to match her own personal style.
While the dress adorns the wearer, the painting lives in the home, and together are working symbiotically to create a world of sophisticated beauty and harmony for each special client. Luxurious hand painted silks in vibrant color-drenched joy-filled hues capture the essence of each woman's beauty, in her home, on her body, and artfully represent her in her world, capturing the essence of her individual beauty.
Artist and client meet for a color portrait sitting to discover one's most flattering palette based on eye / skin / hair coloring, and personality. In the lost tradition of true haute couture, each painting and dress commission is made especially for each client, uniquely fitted and created one of a kind especially for her. The glory of the feminine form is well appreciated in luxurious double-sided silk, with hues and blends of color and luxurious texture that transpire to elevate the wearer's experience with art into one's experience with living. The concept of the portrait is brought forth into modern day in a sitting that highlights one's own inner beauty and strength as well as creates a work of obvious physical aesthetic.
Angel Chen, an Asian American artist born on one side of the Pacific Ocean and now living on the other, has consistently been guided by water, at once her inspiration and anchor. Water is as inherent an element to our very survival as it is medium for her art. The ocean in all its formlessness, guides the formal qualities of Angel's mesmerizing painting style like undulating waves at sea. The silks defy gravity with rich joyful hues of billowing fabric, giving the wearer the freedom of an ocean wave and the lightness of the air we breathe. Bucking the trend of 'dressing down', Angel Chen's designs are bringing back beauty, femininity and unapologetic glamour as wild and resilient as the untamed seas.
Angel Chen's works inspired by meditation and transcendentalism, exist beyond the ordinary range of perception, to attain a new understanding of and create a relationship with color, form, and light, the pearls that define humankind, that bring infinite peace and guide oneself beyond man made constructs to total freedom. As magical as light on the surface of water, as invisible as the horizon in the distance where the ocean meets the sky….to come to a sublime place where beauty and dreams embrace each other as Angel's work embraces the miracle of existence, these are the joys that can be found in the simplicity of life's offerings, captured in these artworks for you and your home.
The artist has recently completed a 20 foot commission for the Annenberg Foundation offices in Century City, Los Angeles, and recent well-received exhibitions in the south of France and Hong Kong. She received her MFA from Calarts, where she earned the coveted Ahmanson Award, and BFA from UCLA, where she was selected for the prestigious Skowhegan Fellowship.
Rather than purchasing a finished painting to hang solitary on a wall or endlessly searching for the one dress off the rack to perfectly match one's individual taste, painting and dress are commissioned especially for each client, art and couture in one. The watercolors represent minimal, abstract, and aesthetically appealing forms that appear to dance like leaves on a gallery wall or walk on water. Angel's artwork, whether in the form of a painting, installation, or silk gown, mesmerizes and brings the viewer to a new plateau of consciousness to reveal a transcendental and enlightened state of being.
Couture Painting Color Portraits begin at $5,000
For more information visit ANGEL-CHEN.COM
For a private consultation or to schedule an appointment, contact studio at: Tel. 213.446.1488
###