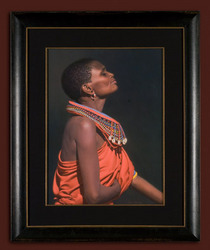 Painting A Brighter Future for Kenyan Women
Manchester Center, VT (PRWEB) August 6, 2009
In a joint effort to raise funds and awareness for The BOMA Fund organization, The Image Loft, and nationally acclaimed artist Nancy Howe are raffling off a framed giclee print from Howe's project "Painting A Brighter Future for Kenyan Women". All proceeds will go directly to The BOMA Fund for the support of the Rural Entrepreneur Access Program (REAP}.
This signed giclée is an archival reproduction of Howe's 2008 original oil painting titled "The Dance Within", printed and framed to conservation standards by The Image Loft. The finished framed piece measures 26"x32". The raffle drawing will take place on September 1, 2009 at The Image Loft in Manchester Center, Vermont. Raffle tickets are available online, at our Manchester retail store and at the Chittenden Bank Manchester branch office. Four original paintings from the series are on display at the bank as well.
"With only 4 weeks left, and raising close to $1,000 to date from just our small town of 3900 people, we are now bringing the raffle to the world community." says John Conte, owner of The Image Loft. "Our excitement is high. It takes only one raffle ticket at a time to make a difference. Plus, this is a wonderful opportunity for some lucky person to own a framed giclee of a sought-after artist's work while supporting a dynamic organization."
"When my youngest son, who is now serving in Afghanistan with the 10th Mountain Division, decided to join the Army, I found myself wondering what I could do to support his efforts." says Conte. "I decided to look more into the future, to help prevent what has happened in Afghanistan from happening elsewhere. Building sustainable local economies and improving daily lives are key to a more peaceful future. I only needed to look down the street to find The BOMA Fund."
The BOMA Fund is an exceptional organization working in Africa. "What strikes me most is their positive approach, empowering those on the receiving end. Not only has this method proven to be highly effective for BOMA's region in northern Kenya, it serves as a role model for other organizations working in the developing world." With insurgents attempting to penetrate the region, it is of the utmost importance to support BOMA's work.
Nancy Howe is more than half way into her project "Painting a Brighter Future for Kenyan Women", a series of 15-20 paintings of the native pastoral nomadic people of Northern Kenya. Howe believes this piece, "The Dance Within" best represents the emotion and power the series of paintings communicates. Though the original has been sold, plans are underway to reassemble the entire collection, upon its completion, for exhibition in Vermont and Washington, D.C.
"My inspiration for this project came during a 2006 visit to Kenya with my family" says Howe. "Donations from the sale of the original artworks, and reproductions of the images will benefit rural African women who face the most severe consequences of climate change (drought) and poverty." You can learn more about Nancy and her project at http://www.nancyhowe.com.
This raffle also serves as an example of how local collaboration within the business community can help fund and source change on a global scale. These three, Nancy Howe, The Image Loft and BOMA are all within a ten-minute drive of each other.
The BOMA Fund, a US based non-profit organization lead by founder Kathleen Colson, is committed to empowering the rural poor in northern Kenya by helping women start small businesses through business training, grants and mentoring. "We provide the resources for rural African women to develop their own source of income and ultimately become self-reliant" says Colson. "Our goal is to reduce the circumstances that make rural African women vulnerable and increase their capacity to build a life worth living for themselves and their children." Visit http://www.bomafund.org or call 802-362-1440 for more information.
The Image Loft is a premier provider of photographic and art reproduction services, and conservation custom framing and finishing. Based in Vermont, their services are available nation wide at http://www.theimageloft.com. The Image Loft is committed to the responsibility of supporting the arts and causes that help foster good.
# # #