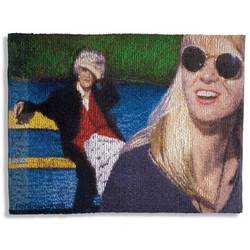 Wilton, CT (Vocus) March 16, 2010
From Thursday April 15th to Monday the 19th, browngrotta arts will exhibit the work of more than 30 international artists at the 2010 New York Sculpture Objects & Functional Art (SOFA) exposition at the Park Avenue Armory, 68th Street and Park Avenue, New York. Highlights of browngrotta arts exhibition at SOFA New York will include new work by Norma Minkowitz, Mary Giles and Jin-Sook So as well as contemporary textile arts pioneer Ritzi Jacobi and Pollock-Krasner Foundation Award winner Adela Akers. Tapestries by Helena Hernmarck, known for her large-scale commissions for Newsday, NationsBank, Johnson & Johnson and dozens of other corporations, will be exhibited in browngrotta arts booth and in the SOFA VIP lounge. Also, for the first time in New York, artist Wendy Wahl, will create a massive sculpture entitled branches exclusively for the entrance of SOFA New York 2010. Grand in scale and in concept, Wahl's inviting work seeks to make connections between perception, knowledge, and tactility through fashioning discarded pages from various volumes of the Encyclopedia Britannica into whimsical and arresting sculptural forms. Other examples of Wahl's work will be featured in browngrotta arts SOFA booth.
Long heralded as the nation's premier destination for cutting-edge modern and contemporary design and decorative arts SOFA has attracted a global audience of discerning collectors, critics, and enthusiasts since its inception over a decade ago. This year, more than 50 galleries from the United States, Canada, Belgium, Denmark, England, France, Turkey, Japan, and Brazil will come together and push the boundaries of medium and genre, offering work that goes beyond the traditional decorative arts to embrace new materials and processes with rigorous conceptual underpinnings. Luminaries such as Ruth Duckworth, Lenore Tawney, Peter Voulkos, and Lino Tagliapietra, stand beside up-and-coming artists such as Christa Assad, Sibylle Peretti, Jennifer Trask and Junko Mori.
About browngrotta arts
For more than 20 years, browngrotta arts has promoted contemporary textiles and fiber sculpture. The gallery represents the work of more than 90 artists including seminal artists in the field like Françoise Grossen, Ritzi Jacobi, Helena Hernmarck and the late Ed Rossbach. browngrotta arts has also focused on bringing to the US the work of the most renowned artists from abroad including Ulla Maija-Vikman of Finland, Hiroyuki Shindo of Japan and Sue Lawty of the UK. The firm has published 37 art catalogs and placed art work in dozens of private, corporate and museum collections in the US and abroad.
High Resolution Images Available on Request.
###