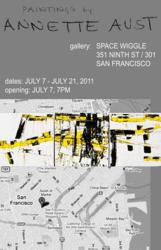 San Francisco, CA (Vocus/PRWEB) June 30, 2011
In today's fidgety world of Photoshop and Facebook, it is easy to forget the power, immediacy and profound reality of painting. The oils of Annette Aust, an artist born in Austria and educated in Berkeley and Vienna, bring art lovers back to the land of texture and substance. Her work will be featured for two weeks, beginning with an opening the evening of July 7, 2011 at the Wiggle Gallery in SOMA.
"Works in this exhibit stand as a record of the fascinating mind and physical gestures of Annette Aust," said Geoff Gibson, co-owner of Winder Gibson Architects. "Bold, yet playful—art lovers will fall in love with her extraordinary, luscious works on canvas."
The San Francisco art exhibit opening is scheduled for Thursday, July 7 from 7 to 9 pm. Guests will be able to view about a dozen oils while they enjoy wine and cheese and conversations with the artist. The exhibit of these works, painted both here and in Europe, will remain open for 2 weeks after the opening during the weekday hours of 10 am to 6 pm.
San Francisco residential architects John Winder and Geoff Gibson are known to open the front of their design studio to members of the Bay Area and international art community.
For more information about the art exhibit, call (415) 692-0874. To see photographs of John Winder and Geoff Gibson's projects, including the recently completed Market Street penthouse for YouTube co-founder Steve Chen, visit their websitearchsf.com.
About Annette Aust
Annette Aust was born in Graz, Austria then raised in Berkeley, California until moving to Vienna, Austria at the age of 15 where she studied architecture, sculpture and video at the University for Applied Arts while employed as a photographer. In 1998 she moved to the United Kingdom where she studied and received her diploma from the Arts Institute at Bournemouth and worked in a freelance photography.
In addition to being featured at galleries in Austria and Germany, Aust's works have been displayed at FiveTen Studios in Oakland, Uta Scharf and A Forest Gallery in New York and NPC (New Progressive Coalition) and Artworks SF in San Francisco.
About Winder Gibson Architects
Winder Gibson is a commercial and residential architectural firm in San Francisco that specializes in commercial and residential remodeling and architecture in San Francisco and beyond. Both John Winder and Geoff Gibson have worked on a variety of projects, including exterior and interior design for new construction, additions, roof decks, bathroom and kitchen remodeling, and the renovation of historical buildings. Due to their experience and reputation, Winder Gibson's clients frequently include other design professionals.
###