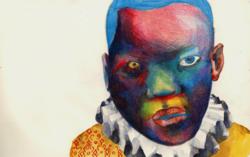 ART.WRITE.NOW. gives audiences a body of top-notch, teen-produced work that we hope will inspire them to appreciate and support young artists and writers for their maturity, talent and originality.
Pasadena, CA (Vocus/PRWEB) April 18, 2011
An exclusive selection of more than 100 teen works goes on view in ART.WRITE.NOW., the first-ever traveling exhibition of the prestigious Scholastic Art & Writing Awards opening May 7 at Lineage Dance Performing Arts Center in Pasadena. Included in the exhibition are works by Los Angeles-area students Lachlan Turczan, 17 (Los Angeles County High School for the Arts); Isabel Bennett, 16 (Culver City High School); Juan Correa, 17 (Loyola Academy); and Benjamin Sprung-Keyser, 16 (The Harvard Westlake School).
The Southern California presentation of ART.WRITE.NOW. is the final leg of the tour after successful stops at the Seattle Art Museum, Half Price Books in Dallas, Texas, and the Fort Wayne Museum of Art in Fort Wayne, Indiana. The exhibition features selected works by the 2010 competition winners.
A free public reception will be held at Lineage Dance (89 South Fair Oaks Ave., Pasadena, CA, 91105, on May 7 from 6:30-8:30pm. The exhibit will be on view until June 4 with regular viewing hours on Mon. 5-9pm; Tues. 4-7pm; Wed. 5-9pm; Thurs. 4-7pm; Sat. 9am-2pm; and Sun. 10am-2pm. For hours and directions, the public may call Lineage Dance at (626) 844-7008. For more information on the exhibition, visit http://www.artandwriting.org/artwritenow or call (212) 343-6892.
Presented by the nonprofit Alliance for Young Artists & Writers, the Awards honor creative teens in grades 7 to 12 with exceptional artistic and literary talent. The Alliance also offers valuable scholarships to teens to pursue their crafts. Since 1923, more than 13 million of America's most talented young artists and writers have participated in the Scholastic Art & Writing Awards. More than 2.5 million students have been recognized through exhibitions and publications and have shared in more than $25 million in cash awards and college scholarships. The Awards continue to be the country's oldest and most respected recognition program for creative teens.
In 2011, students submitted 185,000 works in 29 categories including poetry, humor, journalism, novel writing and science fiction as well as painting, sculpture, photography, fashion design, film and animation, and video game design. Works were judged on originality, technical skill and the emergence of personal vision or voice. Out of that extraordinary pool of talent, 1,500 students were jury-chosen for top honors, including 37 California teens.
"At a time when funding for the arts is in jeopardy, we believe it is more important than ever to highlight the value of arts education and to provide national recognition for creative teens doing outstanding work," said Virginia McEnerney, Executive Director of the Alliance for Young Artists & Writers. "ART.WRITE.NOW. gives audiences a body of top-notch, teen-produced work that we hope will inspire them to appreciate and support young artists and writers for their maturity, talent and originality."
Approximately 600 of this year's winning submissions will be exhibited during the Scholastic Art & Writing Awards national ceremony at Carnegie Hall in New York City in early June. On that occasion, the Alliance will honor legendary Southern California-based conceptual artist John Baldessari with the 2011 Alumni Achievement Award.
"When I first took art classes in National City, my art teacher encouraged me to enter the national Scholastic Art Awards," Baldessari said. "At that time, I was experimenting with photography, so I put in a photograph, and I won. That's where it all began."
Past Award winners include Andy Warhol, Sylvia Plath, Truman Capote, Richard Avedon, Robert Redford, Joyce Carol Oates, John Lithgow, Zac Posen, Ned Vizzini and Abdi Farah, winner of the Bravo show Work of Art and a solo exhibition at the Brooklyn Museum. The competition's jurors are another esteemed group: Chuck Palahnuik, Paul Giamatti, Langston Hughes, Robert Frost, Judy Blume, Lesley Stahl, Paula Poundstone and Billy Collins.
Among the 2011 winners are 16 high school seniors who earned the competition's top honors and will each receive cash scholarships. Another 400 graduating seniors are eligible for scholarships at more than 60 colleges, universities and art institutes across the country that provide $3.9 million in financial aid annually to help Scholastic Award winning artists and writers pay for higher education. The teachers of top winners were also recognized by the Alliance with cash awards.
ART.WRITE.NOW. is made possible through the generous support of Scholastic Inc, Ovation, and the Dick Blick Co. The Alliance for Young Artists & Writers is generously supported by Scholastic Inc., Maurice R. Robinson Foundation, Jack Kent Cooke Foundation, Command Web Offset, AMD Foundation, The New York Times, Dick Blick Co., Ovation, New York Life Foundation and Amazon.
# # #