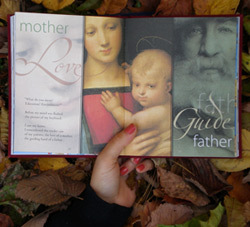 'That Something' has been the moving spirit of every truly great thinker, leader, artist, musician, writer and statesman
Mechanicsburg, PA (Vocus) August 1, 2009
Which books inspired people to dig their way out of the Great Depression of the 1930s?
One of them was called ''That Something: Once You Find It Your Life Will Never Be The Same,'' a perennial bestseller that sold over three million copies during the Great Depression. The book inspired a broad range of workers, thinkers and writers including Thomas Edison and Napoleon Hill. "'That Something' has been the moving spirit of every truly great thinker, leader, artist, musician, writer and statesman," wrote Napoleon Hill in his classic book, ''Think and Grow Rich.'' Billionaire Paul J. Meyer, who recently celebrated his 80th birthday, attributes much of his success to this book.
"That Something" tells the story of a man who graduated at the top of his class and had a bright future ahead of him. Then came the Great Depression of the 1930s, and like so many of his generation he hit hard times. He found himself sleeping on the cold hard floor of a homeless shelter, with a hundred other men. His future looked grim.
Then, while begging for food, he met a rich man who refused to give him even a bread crumb. Instead, he told him of a special formula for success, which he called "That Something." He used this formula to quickly move up the ranks of the largest business in town. Eventually he became one of the great success stories of his time.
"That Something" is a heart-throbbing, quick read and the perfect gift for someone who has lost their job or home, struggling to make ends meet in a difficult economy. It's an inspirational rocket booster to help you climb the ladder of success and happiness.
Executive Books has just published an illustrated gift book edition of ''That Something: Once You Find It Your Life Will Never Be The Same,'' with masterworks by Rembrandt, Rubens, Raphael, Leonardo, Michelangelo, and others. The book is hardcover and beautifully bound in red felt, with the title etched in silver. The environmentally friendly paper gives it an Old World flavor. At only $19.95, the book is expected to sell out quickly, as there was only one printing, which was commissioned in honor of the founder of Executive Books, the late Charlie "Tremendous" Jones.
The illustrations include a panorama of artwork spanning 30,000 years of art history, from cave paintings to fractal art. Bosch paintings represent the misery of the Depression. A running bull from the ancient caves of Lascau represents will power. A Delacroix painting showing Dante and Virgil in Inferno represents our struggles with self-control. A Rembrandt portrait invites us to self-reflection about our purpose. A Titian painting of Bacchus and Ariadne inspires confidence. A Michelangelo painting from the Sistine Chapel reminds us that "nothing is impossible." Hubble photos invite us to awe and wonder. Computer art symbolizes invention and originality. The book also includes portraits of Whitman, Dickinson, and Goethe, and additional paintings by Van Gogh, Van Eyck, and Leonardo.
100% of the proceeds of the sale of "That Something" benefit charities established by Mr. Jones to encourage young people to read. "That Something" can be purchased through Executive Books, which offers special quantity discounts, or amazon.com. A website is under development, and you can request free samples of the artwork by emailing art(at)23successsecrets(dot)com.
###