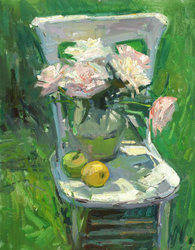 My goal is to teach one to 'see,' not to paint by formula
Evergreen CO (PRWEB) April 30, 2009
A new interactive art instruction DVD collection has been launched to help people learn how to paint. The DVD collection, 'Art of Painting,' is by American painter Don Sahli, founder of Sahli Studio, Sahli School of Art and Sahli Publishing LLC, and the last apprentice of the famous Russian colorist, Sergei Bongart. In conjunction with the DVD series launch, Sahli is proud to announce his new website, http://www.sahliartofpainting.com, a resource for artists and students searching for guidance and support in their journey to become a painter.
Don Sahli made the decision to become a professional artist at a very early age. By age 16, he was selling his work and by 18, Sahli was exhibiting side by side with seasoned artists as an established painter. In 1982, this self-taught artist formed a faithful friendship with Russian master painter -- Sergei Bongart. During this period with his mentor, Don Sahli was taught in the 'old academic way' not how to paint by formula, but how to 'see' the relationship of color, form and design in nature.
Following the legacy of his teacher, Sahli opened Sahli School of Art in 1995. Since then Sahli, has shared his philosophy with over 500 students during 75 studio and plein air workshops. Producing the DVDs makes it possible for Sahli to expand his reach -- sharing his knowledge on how to paint with more students than ever before.
The launch of Art of Painting - Interactive Art Instruction DVD Collection features three DVDs - Still Life, En Plein Air and a Painter's Journey. Art of Painting is academic, literary and classical, scholarly and intellectual rather than technical. "My goal is to teach one to 'see,' not to paint by formula," says Sahli.
MediaBound Productions utilized state-of-the-art technology to record and produce the DVDs. Art of Painting was shot on Hi-definition Camera, capturing the color, contrast, and value that would only truly be seen if in a private studio workshop with Don Sahli. The hi-def filming allows replicating of the DVD's in multiple formats, including standard and HD.
The Interactive Forum used to develop the DVDs allows artists to take control of the lesson -- to explore and expand the process with a focused lesson, to read about the method or continue on with the demonstration. Rather than just viewing a painting demonstration, artists will find Sahli blends critical step-by-step tools and techniques that make the transition to their canvases.
Sahli's work is available in fine art galleries through out the country. To purchase Art of Painting - Interactive Art Instruction DVD Collection: Still Life, En Plein Air, and A Painter's Journey, visit Sahli's website: http://www.sahliartofpainting.com. For additional background on Don Sahli, call 303-670-8615.
Contact:
Julie Topka
Sahli Publishing LLC
303-670-8615
###