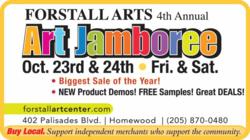 This year's Art Jamboree promises to be the most exciting yet!
Birmingham, AL (PRWEB) October 19, 2009
This Friday and Saturday, the 4th annual Art Jamboree will take place at Forstall Art Center in Birmingham, Alabama. The jamboree will feature door prizes, free samples, free classroom demos and up to 70% off of retail of art supplies. One of the many door prizes will be an easel with a $1,150 value.
"This year's Art Jamboree promises to be the most exciting yet!" Forstall Art Center owner Phillip Forstall said. "We've got artists lined up to show new products and techniques, such as Ed Brickler, director of Canson Paper's Art Education Program, internationally-recognized tattoo artist Shane B hosting a Montana Gold demo, and over a dozen manufacturer's reps from every corner of the US."
Other highlights from the classroom demo schedule include ''Golden Acrylic, A to Z,'' taught by Golden representative Alex Bailey, an encaustics demonstration with award-winning artist Trent Thomas, and a Gamblin Oil Color and Mediums demonstration with local artist and art instructor Sharon Gates. For the full two day schedule, visit http://forstallartcenter.com.
"Forstall Art is committed to helping every artist push their work forward," Forstall said. "And we do it by offering them the products they want at the prices they can afford, and making sure they know about the latest develops in the world of art materials."
Forstall Art's Jamboree will be 10 AM to 6 PM on Friday and 10 AM to 4 PM on Saturday. Artists can also shop online at http://fineart.forstallartcenter.com.
About Forstall Art Center
Forstall Art Center has served Birmingham's fine art and design communities since August of 1990. Phillip Forstall brought his friendly approach to serving artists to Birmingham after leaving his family's art supply in the Big Easy. The store specializes in fine art materials for everything from painting to book arts, sculpture to street art and all points in between. Forstall's framing department features over 3,000 moldings to custom fit artwork. With a staff of seasoned art teachers and award-winning artists, Forstall Art Center is committed to serving the customer's needs.
Forstall Art Center
402 Palisades Blvd.
Homewood, AL 35209
Phone: (205) 870-0480
# # #