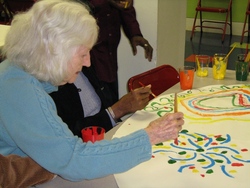 Art therapy programs engage the minds of those affected by dementia, improving the quality of life for Alzheimer's patients, and increasing self-esteem.
Memphis, TN (Vocus) December 24, 2009
The Memphis Brooks Museum of Art is pleased to report successful results in reaching those afflicted with Alzheimer's disease through the museum's art therapy program Piece of Mind.
Piece of Mind was modeled on the highly acclaimed Meet Me at MOMA developed by the Museum of Modern Art in New York. Building on this idea, the Brooks also added corresponding art making sessions with a trained art therapist, and is currently the only art museum in the country to offer these two components in tandem.
This unique program benefits individuals in the early to middle stages of the degenerative disease, along with their family members and caregivers.
According to the Alzheimer's Association, as many as 5.3 million people in the United States are living with Alzheimer's, a disease characterized by memory loss for which there is no known cure. While art therapy programs cannot stop the effects of the disease, they are valuable therapeutic tools in engaging the minds of those affected by dementia, improving the quality of life for Alzheimer's patients, and increasing self-esteem. As the Alzheimer's Association states, the value of art therapy lies "in the creative process of making the art and expressing feelings and emotions trapped inside. The ensuing sense of accomplishment brings renewed joy and self-respect to the patient."
Karleen Gardner, the Brooks' Curator of Education explains, "In this program you often see people opening up and, as their caregivers tell us, expressing themselves in ways they couldn't usually. While they may not be able to access a specific memory, some paintings can evoke powerful feelings from their past."
During interactive gallery tours at the Brooks, specially trained museum docents highlight themes, artists, and special exhibitions, encouraging close looking, personal connections, and group discussion. Tours are followed by related hands-on art projects in the studio with a trained art therapist. The Piece of Mind program is conducted during non-public hours, thus providing a safe, comfortable environment to give those living with Alzheimer's an expressive outlet and a forum for dialogue.
"Caregivers and those with dementia need opportunities to help relieve stress and to enhance the quality of life for both," says Lisa Bobal, Director of Development for the Mid-South Chapter of the Alzheimer's Association. "To be able to go out with a person with dementia to a therapeutic art program and not feel judged or embarrassed is a major stress reliever for the caregiver and a great mental stimulant to the person with Alzheimer's disease. We at the Alzheimer's Association are thrilled that we are able to encourage caregivers to attend this program at the Brooks."
Tours are offered monthly on select Tuesday mornings; admission is free. The next three tours are as follows:
Tuesday, January 19 at 10:30 am
Art for All Seasons
Explore the four seasons through works from the permanent collection.
Tuesday, February 23 at 10:30 am
The Art of Love
Discover themes of love in paintings throughout the galleries.
Tuesday, March 23 at 10:30 am
Venice in the Age of Canaletto
Delight in colorful scenes from Venice in the Brooks' spring exhibition.
Piece of Mind is sponsored by Baptist Memorial Health Care, regarded as one of the premier health care systems in the nation, dedicated to providing compassionate, high-quality care for patients. "It is our privilege to support such a wonderful and important program," said Scott Fountain, senior vice president and chief development officer for Baptist. "Our colleagues treat many Alzheimer's patients, so we see firsthand the effect it has on patients and their loved ones. We hope this program helps them and anyone else who has been affected by the disease."
For a complete tour schedule or to make reservations, please visit http://www.brooksmuseum.org or call 544-6242.
JPGS available upon request.
MEDIA CONTACT:
Elisabeth Callihan, Public Relations Manager
pr(at)brooksmuseum(dot)org
(901)544-6208
Located in the heart of historic Overton Park, the Memphis Brooks Museum of Art is the oldest and largest encyclopedic art museums in the state of Tennessee. In addition to showcasing its permanent collection of over 8,500 objects, the Brooks hosts several traveling exhibitions throughout the year, as well as a full calendar of dynamic programs for children and adults.
The Brooks thanks its Community Partners: ArtsMemphis, The Hyde Family Foundations, The Tennessee Arts Commission, The Jeniam Foundation, and AutoZone.
###