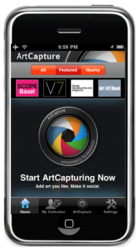 [We] see Collectrium as a leader in the new breed of mobile and social applications for the art world.

--Alexis Hubshman, Founder and President of the SCOPE Art Fair
Basel, Switzerland (PRWEB) June 15, 2011
Thanks to ArtCapture by Collectrium -- a mobile app that uses image recognition technology -- collectors and collectors-to-be at this summer's gathering of art world glitterati in Basel will experience art as never before at VOLTA 7 (Monday, June 13 to Saturday June 18, 2011) and SCOPE Basel (Tuesday, June 14 to Sunday, June 19, 2011).
Collectrium is part of a new generation of art startups looking to change the way people learn about and collect art via new innovations in technology. With Collectrium's ArtCapture mobile app, a visitor to the fairs will be able to point her iPhone or iPad at any registered artwork and instantly receive extensive information on the artist and the piece; add the artwork to her "My Collection" favorites; share with friends via Facebook, Twitter, and email; and contact the gallery about the artwork. ArtCapture will update next week to include an 'Augmented Reality' function that will allow users to envision an artwork hanging on a wall in their home.
Tapped as one of 'America's Most Promising Start-ups' by Bloomberg BusinessWeek (4/15/11), Collectrium's mobile technology has been warmly embraced by gallerists around the world since its launch in Basel last June. With its new app, visitors to any of the Basel fairs, including Art Basel, no longer have to make scribbled notes on postcards and flyers. The collector can leave the fair with a browsable list of her favorite artworks on her mobile device, complete with detailed information on each work, artist, exhibiting gallery, and personal notes – in effect creating her own personalized virtual gallery and catalogue of the fair. ArtCapture also functions as a QR code scanner, so for sculpture, installation, moving image pieces, or any work with a QR code on the label, visitors can use ArtCapture to scan the QR code to identify works of art.
"Collectrium pioneered using image recognition technology to identify works of art. We've worked exclusively with them over the past year and see Collectrium as a leader in the new breed of mobile and social applications for the art world," said Alexis Hubshman, Founder and President of the SCOPE Art Fair.
"The art world is finally opening up to new technology, and we at Collectrium are center stage, serving art collectors, galleries, dealers, art fairs, and artists with our new mobile and web tools. With ArtCapture, we are empowering art lovers to carry their experiences at art fairs and galleries around with them, in the palm of their hands, while some of our fellow start-ups, like Art.sy and Artsicle, aim, for the most part, to move the selling floor to the web," says Boris Pevzner, the former Silicon Valley entrepreneur who founded Collectrium.
In addition to using the ArtCapture app to automatically identify artworks, visitors to the participating fairs will browse the entire art show catalogue on their mobile device; enter images, details and personal notes about works of art not already registered in the system; and view all the programming and scheduling information about the fairs. Pevzner concludes: "We've created a bridge between the physical and virtual art worlds by bringing the power of online technology to that live moment of discovery."
Furthermore, the visitors who manage their own private collections using ArtCapture will have easy access to their artworks through the same mobile app, alongside the artworks exhibited at the art fairs.
ABOUT COLLECTRIUM
Founded by Boris Pevzner in 2009, Collectrium is a New York-based company providing innovative technology for discovering and displaying art on the web and mobile devices, including the revolutionary art identification and art similarity tools. Over time, the Collectrium team—which has extensive expertise in the fields of in technology, finance, and the contemporary arts—will offer collectors and galleries integrated services for art storage, appraisals, financing and other needs.
Pevzner's business ventures are built around a deep understanding of how different kinds of communities can be enhanced and transformed through innovative technology solutions. In 2003 he helped to conceive and develop xfire, a revolutionary social networking online service ($102M exit via a sale to Viacom). He has also co-founded Centrata, a pioneer in cloud computing for enterprise-class datacenters, and conceived and developed Lontra, a leader in service management of Information Technology (IT).
Pevzner is a frequent speaker at IT industry conferences, and he often serves as an advisor to senior technology executives of Fortune 500 companies on issues of IT management and security. Pevzner holds undergraduate and graduate degrees from the Massachusetts Institute of Technology (MIT). He was born in St. Petersburg, only a stone's throw away from The Hermitage.
THE FAIRS
VOLTA 7 returns to Basel at Dreispitzhalle, close to the word-renowned Schaulager, June 13-18, 2011. VOLTA 7 is a platform for presenting the vision of contemporary art galleries of global repute whose artists represent new and relevant positions for curators and collectors alike. Conceived to bridge a gap between Basel's pre-existing fairs, VOLTA showcases galleries – whether young or mature – that choose as their mandate to work with the most exciting emerging artists.
This year's Basel edition of SCOPE, June 15-19, 2011, in historic Kaserne just blocks from Art Basel 42, presents 85 international galleries upholding its unique tradition of solo and thematic group shows presented alongside museum-quality programming, collector tours, screenings, and special events. The unique SCOPE experience expands this year in partnership with Kaserne's cultural organizations, featuring: film, music, theatre and performance.
Collectrium will also feature Art Basel satellite shows Liste and Solo Project on the mobile app.
GENERAL INFORMATION
To learn more about Collectrium, visit http://www.collectrium.com.
To download Collectrium's free ArtCapture app on iPhone and iPad, go to http://collectrium.com/iphone or at the Apple App Store.
VOLTA 7 and SCOPE Basel iPhone and iPad apps, powered by Collectrium, can be downloaded for free from the Apple App Store.
###