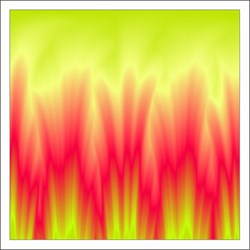 Bermejo's images are so compelling, you can't not look at them. - John Coplans, Founder and former editor-in-chief, Art Forum magazine, curator and artist
Naples, FL (PRWEB) January 30, 2013
Spanish-born, New York-based contemporary artist and neuroscientist, Roberto Bermejo, exhibits his acclaimed, hypnotic paintings at the Philharmonic Center for the Arts in Naples, appearing in the Florida art scene for the first time. Known for inventing a unique software that unleashes extraordinary arrays of color and form that redefine painting, his dynamic images are on view as single, large-scale, laser-rendered paintings and in small jewel-like works of art. Even before digital art was fully embraced by the traditional art world, the late John Coplans, founder and former editor of Art Forum magazine noted, "Bermejo's images are so compelling, you can't not look at them."
Bermejo's series, The Light of Colors, can be seen now through May 2013 at the Philharmonic Center for the Arts, 5833 Pelican Bay Boulevard Naples, FL. His ground-breaking artistic process creates an infinite series of unique images, never repeated, reproducing endlessly and, according to Bermejo, "symbolizing both the distinctive and shared traits of each human being." They can be exhibited on any type of digital screen, where the viewer can literally experience the act of continuous creation. Bermejo creates "colors so brilliant, they seem lit from within," observed ArtByte magazine.
"At a time when contemporary art is dominated by a growing banalization of its content and form, it is especially valuable to meet an artist whose seriousness and commitment cannot be questioned," says Iria Candela, curator at the Tate Modern in London.
Bermejo applies his scientific programming skills to explore new ways of painting. Bermejo explains, "My work transformed when I gained access to an almost infinite palette of colors through the computer. I can then precisely place these color values across the computer's virtual canvas, on photographic paper, on canvas, or projected through space on walls. Each painting contains some 500 colors and tones and more than one million fine brush strokes that I carefully distribute across the surface. For each new project, I build custom software, rather than using existing commercial programs, which just limit one's creativity. As the boundaries between different media (photography, painting and video) become even narrower, I believe, regardless of the media, my content and artistic process, remains that of a painting."
According to George Fifield, founder and director of the Boston Cyberarts Festival, who featured Bermejo's work at several Cyberarts Festivals, "Taking something from analogue to digital frees up...Bermejo...not just to discover a new realm of creativity but to reinvent it completely."
"The artwork of Roberto Bermejo reflects, above all, a rigorous search to express a series of thematic concerns through a distinctly personal style," Tate Modern curator, Iria Candela stressed. "It is in this meticulous and stubborn process to configure a unified, innovative artistic body of work, that he melds his background of scientific inquiry with his charismatic personality."
About the Philharmonic Center for the Arts: The Philharmonic Center for the Arts is a non-profit organization. Its mission is to enlighten, educate and entertain people of all ages and backgrounds in Southwest Florida by presenting the very best of the visual and performing arts. The Phil is unique among arts centers in that it features both the performing and visual arts in a single complex and hosts a resident orchestra. The Phil has four museum-quality art galleries, which showcase traveling and exclusive exhibitions, as well as the 1,475-seat main hall and a 282-seat black box theater,. Each season, the Phil is host to more than 400 individual events. The Center provides programs year-round including for groups and schools. For more information about The Philharmonic Center for the Arts please visit http://www.thephil.org.
About Roberto Bermejo: Roberto Bermejo is a Spanish-born, New York City-based artist and neuroscientist, whose art has been exhibited nationally and internationally in group and individual shows. He is in private collections in the U.S. and Europe. Born in La Coruna, Spain, he studied biology at Santiago de Compostela University, and first came to the U.S. on a Fulbright scholarship to complete his doctorate degree in neuroscience, followed by a post doctorate fellowship at Columbia University. At the same time that he was working with one of the top team of neuroscientists, he met a group of emerging contemporary artists who were also Fulbright scholars, with whom he became close friends. These two experiences created an almost alchemic-like transformation in his notions of creativity and discovery, giving shape to the twin necessity he felt to create art, as well as to be a scientist. Bermejo went on to invent his first proprietary software in the 1990s that allowed him to explore the relationship of light and color with the power of an infinite palette and vast digital multi-media showcases. While his primary focus has been on investigation and discovery, he has exhibited at Artists Space in NYC, at Harvard's Three Columns Gallery, at Boston Cyberarts Festivals as well as in exhibitions in Spain and most recently at the 2012 NY Times/Architectural Digest Home Design Show. For more information see http://www.robertobermejo.com 646-599-3550
###