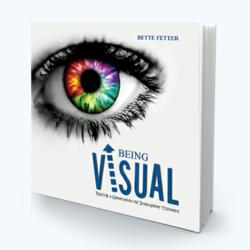 Visual students are struggling in a test-heavy education system that favors left-brain
linear thinkers.
Chicago, IL (PRWEB) September 06, 2012
According to her new book, Being Visual: Raising a Generation of Innovative Thinkers Bette Fetter — childhood art education and CEO of Young Rembrandts — explores how our current test-focused education system is failing the majority of students who need to learn visually. Being Visual is a powerful tool for parents, educators, and anyone interested in improving educational outcomes for all learners.
In her new book, available September 2012, Fetter argues that today's budget-strapped educators sadly neglect skills used by the many students who learn through visual cues. As the founder of Young Rembrandts, an internationally franchised after-school education program that reaches tens of thousands of children each week, she has been on a 24-year mission to champion these predominantly right-brain thinkers.
The right side of the brain is the home of visual-spatial thinking. According to Fetter, this kind of thinking is not only important for children in the arts, but has broad implications for any contributing member of society who hopes to think conceptually, innovate or collaborate in this century's developing business environment.
"Visual-spatial thinkers are big picture, pattern seeking, and holistic thinkers, seeing the 'whole' before they see the 'how.'" Fetter explains. "Visual students are struggling in an educational system that values logical, linear thought processes. The arts, critical to developing visual-spatial thinking, have been cut, or at best relegated to part-time, non-essential status. These subjects cultivate conceptual thinking, innovation and collaboration in ways that academic subject matter cannot. This right-brain thinking is not limited to the arts. Many science, technology, engineering and math (STEM) students are visual-spatial learners. There are brilliant minds not being developed properly, feeling inept, because their gifts are not understood."
To fill the void left by today's educators, Fetter, a former teacher and mother of four, developed the Young Rembrandts concept twenty-four years ago at her kitchen table. Drawing on her own art skills as well as insights gleaned from her children's Montessori education, she came up with a program that emphasizes drawing as the heart of the learning process for visual-spatial thinkers.
In this helpful tool for parents of visual learners, Fetter outlines:

How to distinguish between right-brain visual-spatial thinkers, and left-brain auditory-sequential thinkers.
Why, in the 20th century, the ability to draw is as essential to communication as the ability to write.
How we are over-diagnosing ADD and ADHD
Why it is important that right-brain thinkers also develop their left-brain skills, and vice-versa.
How visual-spatial teaching techniques have also shown promise for autistic children, others with special needs, Alzheimer's patients and stroke victims.
For more on the Better Fetter's insights on the arts and education, you can read her blog at http://www.Being-Visual.com.
About the Author
Bette Fetter, Founder and CEO of Young Rembrandts, Inc., began her career as a professional artist with a bachelor of Fine Arts degree from Northern Illinois University. Through her education, participation in various forms of the arts and experience with Montessori education, Bette gained first-hand understanding of the value of the arts on developing young minds.
Her passion for the arts and early childhood education led Bette to develop Young Rembrandts, a unique teaching methodology focused on developing foundational art and drawing skills in young children. Bette franchised her business, and what began 24 years ago with eight kids at her kitchen table now reaches tens of thousands of children nationally and internationally.
While writing Being Visual, Bette received her MBA from Roosevelt University in Chicago, Illinois. Bette is the President of Brilliant Arts, a non-profit organization whose mission is to provide and support arts programs for children that aid in the development of neural and cognitive learning skills. Overall, Fetter's mission is to reach children and adults alike in order to "raise generations that value the power, the passion and the significance of art."
About Young Rembrandts
Founded in 1988 by Bette Fetter, Young Rembrandts has become a recognized leader in art education. What began as one person, working with children in her home, has developed into an international business that teaches drawing to tens of thousands of students every week. Fetter applied her fine arts education and background in child development to create an original, step-by-step method to teach children drawing, the fundamental skill of all visual arts.
Young Rembrandts partners with pre-schools, elementary schools and community centers to either augment or supply their art education programs. Young Rembrandts has a solid reputation for offering well-organized classes and teaching original, high quality curriculum in a positive environment.