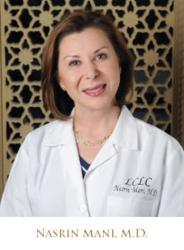 Artefill can be an ideal solution for patients who are tired of repeated filler treatments yet want results they can count on for years to come.
La Jolla, California (PRWEB) November 23, 2011
Patients in Southern California who are ready for a more permanent option for their wrinkles and hollows have a new "go to" doc in La Jolla. Nasrin Mani, regional certified trainer for the "nearly permanent" dermal filler Artefill, has been recognized by Suneva Medical as a Diamond Elite provider.
Diamond Elite signifies top providers - and thus top users - of the filler. Physicians who reach top level status have extensive practical experience in obtaining the best results for their patients.
Dr. Mani provides a bevy of nonsurgical treatments to counteract the appearance effects of aging and sun damage at her clinic in downtown La Jolla, California. In addition to her role as a top Training Physician for Artefill, she is also a member of the Educational Faculty for Radiesse training and is on the professional speaker boards for both Allergan and Medicis.
The practice, La Jolla Cosmetic Laser Clinic, is already a 6 time Thermage Award winner and a Platinum Plus level provider for Allergan, makers of Botox and Juvederm.
Artefill is the only FDA approved facial filler which includes a permanent component that stays in the skin without degrading. The microscopic spheres remain in the skin and their presence causes an ongoing collagen production. Since collagen production slows as we age, the effects on the skin become more and more obvious. Artefill's unique ability to create a collagen generating response means it has long term effectiveness with many patients enjoying 5 or more years' correction.
Of course aging does not stop, so at some point maintenance injections are used to keep the correction at desirable levels. But unlike typical Hyaluronic gels, Artefill has lasting effects for years.
Injection technique is important as Artefill is not removable. As a training physician with extensive experience, Dr. Mani is finding the filler useful for many areas of the face beyond the study area of the naso labial folds.
La Jolla Cosmetic Laser Clinic boasts a professional staff to include 2 Physicians, 2 Registered Nurses and a Certified Physician Assistant. The clinic is recognized for their top-level skin resurfaciing, acne scar treatment, skin tightening and injection successes.
Visit the practice website at http://www.LaJollaLaser.com. Consultations for cosmetic treatments are offered on a complimentary basis and the practice accepts many of the major insurance providers for medical treatments. (858) 454 2700
###