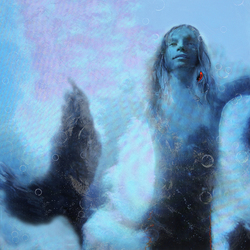 look more closely at the individual standing beside you.
New York, NY (PRWEB) February 22, 2008
This year buyers at Artexpo New York 2008, one of the largest fine and popular art fairs in the world, will have even more to contemplate this year with pop artist Olan Montgomery's eco-conscious paintings depicting the individuals, children, insects and animals of our world covered in plastic. Yes, plastic, plastic vinyl to be exact.
"If you knew there was a 'floating island' of plastic debris the size of Texas in your ocean, what would you do about it?" states artist Olan Montgomery when talking about his upcoming exhibit with Vogel Pop L.L.C. at Artexpo New York 2008 to be held February 28th through March 3rd at the Jacob Javits center.
New York pop artist Olan Montgomery has covered many of his pieces in plastic vinyl for his upcoming exhibition at Art Expo to bring attention to the Plastic trash we produce and how it has made its way to coastal eco-systems and the ocean. "It's a creative way to reveal a serious environmental issue," states Olan, "it's hard to convey that this is a problem we are all responsible for creating. Oddly the plastic on the paintings reflects one's own image acting like a mirror-like cover to remind us all of our own part in this crisis."
Ironically, this statement according to the artist "of our own individual suffocation as well as our environment's," gives the pop art a reflective shine with an almost futuristic modernist edge which begs the question, are we all going to be wrapped in plastic by the end of this century? Olan thinks, "we'd be better served using the plastic we've already produced in art instead of killing animals and polluting our oceans, land and air with it."
"A stew of trash consisting mostly of plastics and weighing some 3.5 million tons according to oceanographers floats in no-man's land between San Francisco & Hawaii stretching as far a Japan, a gyre, a swirling circular current of trash, and it's been there for well over ten years, and it's growing," states Olan.
"Nearly 90% of floating marine litter is plastic. We have so much plastic trash in our oceans right now that 40% of albatross chicks die with their bellies full of trash not to mention all the other wildlife ingesting plastic bottle caps," states Olan, "our pollution snares the animals and It's a proven fact that our plastic trash is presenting a danger to marine and birdlife. One of the greatest concentrations of plastic trash is a Texas-sized floating island of plastic debris in the north Pacific gyre, a collection of trash that has been swept together by ocean currents. Think about it for just one minute," states Olan.
Covering his pieces in vinyl was the best way possible for the artist to literally bring attention to the Plastic trash we produce and it's pollution of our environment.
In the exhibit paintings, among others, include a series entitled "Bubblegum Fishes" depicting Koi fish swimming against aquarium rock, a beautiful child running along the ocean shore and a naked man standing outside of Penn Station in New York, all covered in plastic.
The artist says he incorporates the vinyl sheet coverings of plastic on his pieces as a 'metaphor to our indifference" which the artist describes as "suffocating to the environment and our own individual relationships." "You can't care about someone else if you don't care about the world in which you live," states Olan. He is quick to point out pollution statistics as well as the fact that even the acrylic paint in his art is a product of the plastic revolution.
Olan is known for his activism like his tribute to local bank tellers at Chase Manhattan in New York written about by the New York Times in an article entitled "Tellers in Tangerine, Thanks to Loving Artist's Homage, Bank Tellers find a Wall of their Own" by Laurel Gross published in 2003 where the artist created art about local bank tellers in his community asking the viewer to simply "look more closely at the individual standing beside you." "I created art of these beautiful people we come in contact with every day at the bank, people that many times get overlooked. I put their painted portraits behind all of the tellers, like an echo of their souls, and for one short moment in time New York City life took a pause and these women got extraordinary kindness and respect from the bank patrons. You know they still ask about the paintings in that bank to this day," says Olan.
"Art can beautiful and push the envelope at the same time," states artist Olan, "I love the beautiful eco-conscious works of artists like Wyland and Michael Glinski with their wonderfully beautiful paintings of nature and our oceans. I just wanted this art to reflect our culture, the state of our environment, today - to remind people of exactly what's going on now with some type of subtle symbolic affect to the paintings. These real environmental issues must be faced and it seems to me a sheet of vinyl defines what our popular culture, our world is all about right now on so many levels."
In 2002, about 107 billion pounds of plastic were produced in North America. The history of plastic becoming a commonplace item in our world began in the 18th century.
Historically plastics were originally developed as synthetic substitutes for natural materials, which were once widely used for consumer goods. The first commercially viable plastic was celluloid, developed in the latter part of the 19th century as a replacement for ivory in billiard balls, combs, brushes, and other household items. Rayon, also produced from plant fibers, was developed in 1891. The first synthetic plastic, Bakelite, was developed in 1907 by Leo Baekeland through a condensation reaction of phenol (derived from coal tar) and formaldehyde. Acrylic plastic was not significantly utilized until there was a wartime demand for aerodynamic sheets that could be used to cover airplane cockpits, although acrylics first appeared on the market in the 1930s.
The annual volume of plastics produced tripled during the period of 1940 to 1945. Plastics made it possible to make brightly colored products. Products made of plastic became a prominent component of the Art Deco and art moderne movements in the 1920s and 1930s. After World War II, plastics were used to make an endless number of relatively inexpensive consumer products, including linoleum, Formica, and other household goods.
Plastics also made toys inexpensive, such as the hula hoop and the Barbie doll, which was introduced in 1959. Plastics are essentially a byproduct of petroleum refining.
The environmental impacts associated with the production and disposal of plastics are ongoing.
"I saw a guy toss a bottle cap out of his limo on fifth avenue and I just wanted to ring his neck and tell him that the bottle cap he just tossed into the street will probably make it's way into our ocean and some poor innocent birds stomach." said Olan
According to the U.S. Environmental Protection Agency, Americans are throwing away garbage at an accelerating pace. Americans generated 245.7 million tons of municipal solid waste in 2005-a 20 percent increase over 1990 and 102 percent increase over 1970. Americans currently toss out 4.5 pounds of trash per day per person.
"I don't know about you, but when I open my kitchen cabinet or my fridge the problem hits home, in fact my dog devours everything and I when look down on the street these days in the city I see way too much trash, most of it plastic," says the artist.
"You know, some things need to be hung on a gallery wall to get action or is it reaction - in any case they are moving," states Olan.
About the Show and reception:
One can view Olan's pop art at his agent's, Vogel Pop L.L.C., booth number 1347 at Art Expo 2008 from February 28th through March 3rd. Telephone Vogel Pop at (908) 642-7465 for further information.
A cocktail reception & book signing to meet artist Olan will be held at KANVAS Gallery Bar, 219 9th Avenue, on Friday, February 29th beginning at 9 p.m. RSVP with Vogel Pop at 908-642-7465.
###