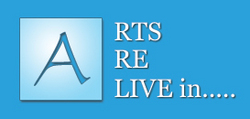 I wish I had known about it
Chicago, IL (Vocus) October 5, 2010
TheArtsAreAlive.blogspot.com is targeted to arts professionals, journalists/bloggers as well as to casual and committed arts enthusiasts. The blog and web site are a unique combination for those seeking current information on the visual arts.
Journalists/Bloggers who write about the arts will have up-to-date background information for their newspapers, television, magazines, web sites, blogs, newsletters, Facebook, twitter stories.
TheArtsAreAlive.blogspot.com is a companion to the artsarealive.com web site. The web site cover museum exhibits. Use of the web site and the blog give arts professionals and enthusiasts current information on what is happening in the world of the visual arts.
The new blog covers art fairs and events happening throughout the U.S. New information is posted weekly. Travel destinations, lodging companies and tour operators can enhance their clients' experiences with updated information from TheArtsAreAlive.com.
The arts enthusiasts will have a valuable tool to plan to view exhibits at home and when they travel. They can eliminate the "I wish I had known about it" syndrome.
Users of the site are encouraged to bookmark it for ease of regular use.
Contact: Deborah Gonderil
Publisher/CEO
http://theartsarealive.com and http://theartsarealive.blogspot.com
312 527-3091
About The Arts Are Alive
Theartsarealive.com is a web site offered as a service to arts professionals, arts and travel journalists/bloggers, travel and tourism companies and arts enthusiasts. The site provides opening and closing dates for exhibits at more than 450 museums and leading art fairs. It is updated quarterly and archived. A Museum Directory is included to give users addresses and web sites for further information.
###