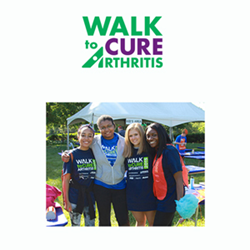 The Arthritis Foundation has done much to help many families in the region, and it's imperative that our residents can continue to count on their services and support
Long Beach, CA (PRWEB) April 18, 2016
Saylor Insurance Agency, a southern California insurance firm with offices serving the greater Los Angeles County region and the surrounding areas, is initiating a charity drive in support of the Arthritis Foundation 5k Walk to Cure Arthritis.
The Arthritis Foundation is committed to assisting individuals struggling with arthritis by exploring pathways to improved lives and outcomes by providing self-help information, funding cutting edge research, and by advocating for arthritis programs. 1 in 5 Americans over the age of 18 struggles with arthritis, and the medical community predicts that approximately 67 million people will be living with arthritis by 2030.
"The Arthritis Foundation has done much to help many families in the region, and it's imperative that our residents can continue to count on their services and support," says Lisa Saul, owner and director of Saylor Insurance Agency.
To notify LA residents of the Arthritis Foundation charity walk, Saul and her team are reaching out to families and businesses throughout the region over email and social media. The Saylor Insurance team will also be drafting a full page feature article outlining the charity event for publication in the next issue of the firm's local interest webzine "Our Hometown": http://www.saylorinsuranceagency.com/Our-Hometown-Magazine_46.
As part of an ongoing community involvement policy, Saylor Insurance Agency has already assisted several other LA county charities and non-profit organizations over recent months. Going forward, the Saylor Insurance team plans to find and assist another southern California charity every other month.
Saylor Insurance invites all readers who wish to take part in the Arthritis Foundation charity walk to make a personal contribution to the cause from the following page: http://www.saylorinsuranceagency.com/Taking-Strides-to-Cure-Arthritis-_17_community_cause. Readers looking for more information on previous LA County charities supported by Saylor Insurance Agency are invited to review the firm's Community Causes list here: http://www.saylorinsuranceagency.com/community-cause.
About Saylor Insurance Agency
Lisa Saul, owner and principal of the Saylor Insurance Agency, has been involved in the insurance industry her entire life. Shortly after graduating from UC Santa Barbara, Lisa worked with her father, Jerry Saylor, an Allstate representative since 1966. After her father retired in 2012, Lisa took a leadership position in the agency and has since achieved multiple industry awards, including Premier Agency Designation, Circle of champions, National Conference and two Honor Rings. Lisa and the team at Saylor Insurance Agency are proudly committed to serving both clients and the greater community, and offer a full range of custom-tailored insurance solutions. To reach a helpful and knowledgeable representative from Saylor Insurance Agency, browse to http://www.saylorinsuranceagency.com/ or call 800-655-3922 – se habla Español.