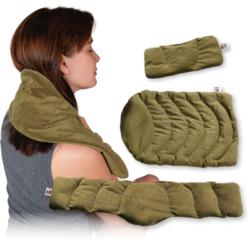 Helping to make people more comfortable is Core Products International's top priority.
(PRWEB) January 31, 2013
The professionals at Core Products International are experts in developing products that help make people more comfortable, which is why they take an interest in the latest studies, such as the one recently conducted by Tufts Medical Center. The Tufts study found that increasing vitamin D intake in arthritis sufferers did not alleviate their knee pain.
In the Tufts study, a treatment group received a large amount of vitamin D during a clinical trial to see if the publicized benefits of the vitamin could actually prevent health problems. Vitamin D is a group of fat soluble prohormones that help in the absorption of calcium. Studies have found that women with high levels of vitamin D have reduced risk of rheumatoid arthritis. However, the results of the Tufts research concluded that taking more vitamin D "did not reduce knee pain or cartilage volume loss in patients with symptomatic knee OA." The study took place over a period of two years.
"Helping to make people more comfortable is Core Products International's top priority," said Philip Mattison, President and Founder of Core Products, "The lack of positive findings in the Tufts study should direct us back to time tested methods like moist heat to help reduce pain in the joints. With that in mind, we recommend our new Micro Beads."
Consumer Reports reacted similarly to the Tufts study by also suggesting the use of moist heat in lieu of vitamin D, explaining that many people find relief through non-drug methods. Of course, one example of a tool for moist heat application is the Micro Beads packs, which naturally store moisture from the air and release it when heated. The packs can be warmed in a microwave and retain their heat for up to 30 minutes. The soft, plush fabric is also soothing to the touch.
Micro Beads are available in three sizes, including a contoured shape for the neck and shoulders. Sewn partitions keep the beads evenly distributed and packs easy to handle.
If anyone would like more information on Micro Beads, they can visit http://www.coreproducts.com/microbeads or contact Customer Service at 800-365-3047 or cusotmerservice(at)coreproducts(dot)com.
About Core Products International
Founded in 1989, with the vision of making people's lives more comfortable, Core Products International is an American innovator, manufacturer and distributor of professional quality health care products. Core markets and sells its products within the USA and internationally mainly to the professional health care markets. Core manufactures and assembles its products in Osceola and Chetek Wisconsin and is proud to employ American workers. Core's product line includes orthopedic pillows, orthopedic supports and braces, hot and cold therapy products, electric and therapeutic massage products, and electrotherapy devices. For more information, please visit http://www.coreproducts.com.