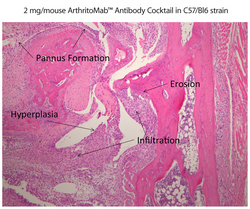 Saint Paul, MN (PRWEB) February 3, 2011
MD Biosciences, a global biotechnology company focused in inflammations research, has optimized ArthritoMabTM Antibody Cocktail for the induction of arthritis in C57Bl/6. Using the optimized ArthritoMab Antibody Cocktail, investigators can induce arthritis in C57Bl/6 strains with as little as 2 mg of antibody and see good clinical disease scores as well as pannus formation, bone erosion, hyperplasia and cellular infiltration at the histological level. A detailed whitepaper covering the ArthritoMabTM antibody cocktail, protocols and data using various strains and positive control is available for complimentary download.
The optimized ArthritoMabTM antibody cocktail relies on the same four clones of antibody selected for use in the original cocktail, allowing researchers to continue to obtain comparative data without introducing unknown variables caused by additional antibody clones. The monoclonal antibody clones in the cocktail were selected to bind to C1, J1, U1 and D3 epitopes, which are well documented epitopes associated with arthritis in the collagen-induced arthritis (CIA) model. These epitopes are also spread across the entire CII region (fragments CB8, CB10 and CB11) to encourage better immune complex formation on the cartilage surface for initiation of arthritis.
With the increase in use of transgenic strains such as C57Bl/6 for the study of arthritis, investigators are often faced with low incidence rates in the CIA model. Alternatively, while the Collagen antibody-induced arthritis (CAIA) has been a good alternative for increasing the rates of incidence, often times the amount of antibody required in C57 strains is cost prohibitive. MD Bioproducts has optimized the ArthritoMabTM antibody cocktail enabling investigators to achieve high incidence rates (100%) in C57 strains while controlling costs in the amount of antibody required (as little as 2 mg of Antibody).
For years, the CIA model has been the standard for arthritis studies. Issues such as length of model, staggered disease onset, low disease induction, lab to lab variations, number of administration timepoints and clinical scoring periods caused researchers to look for a viable alternative. The collagen antibody induced arthritis model (AIA or CAIA) using ArthritoMabTM Antibody Cocktail is a reliable alternative providing results in just 12 days, high rates of incidence and synchronized disease onset.
About MD Biosciences
MD Biosciences provides products and pre-clinical services for companies engaged in inflammations and neurology research. The company is headquartered in Switzerland under Morwell Diagnostics and has specialized laboratories located in Minnesota, Glasgow, and Israel. A panel of scientific experts provides companies' in-depth expertise and technologies to tackle problems and provide flexible drug discovery solutions, enabling smarter results faster.
About MD Bioproducts
MD Bioproducts is a division of MD Biosciences offering products in inflammation, neurology, cancer and immunology research. For those who have internal in vivo capabilities, MD Bioproducts makes available the ArthritoMabTM Antibody cocktail along with full technical support for establishing the protocol in house. For additional information on products offered, visit http://www.mdbioproducts.com.
The information in this press release should be considered accurate only as of the date of the release. MD Biosciences has no intention of updating and specifically disclaims any duty to update the information in these press releases.
# # #