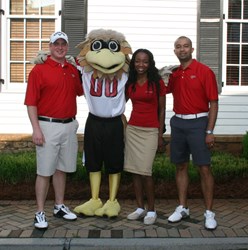 We are always honored to be a part of the Harry Maziar Classic.
Atlanta, GA (PRWEB) May 31, 2013
The Marcus Jewish Community Center of Atlanta (MJCCA) was proud to honor Arthur Blank at its Harry Maziar Classic, an annual golf tournament, which took place this year on Monday, May 20, 2013, at the beautiful Hawks Ridge Golf Club. Each year, the tournament honors an outstanding member of the community. This year's tournament honored Mr. Blank, in appreciation of his dedication and leadership in shaping Atlanta's vibrant Jewish community. The MJCCA had set its goal for 2013 at $250,000, but exceeded it by raising $310,000, which will be used to support the MJCCA's many vital programs and scholarship funds.
Jim Ellis Audi Marietta for the third year in a row was a Gold Sponsor of the event.
Erikka Tiffani, Marketing Manager of Jim Ellis Audi Marietta said, "We are always honored to be a part of the Harry Maziar Classic, but this year it was even more exhilarating when we won 1st place in the tournament. Having the Audi A8, A7 and Q7 displayed on this beautiful course, certainly kept a buzz going and proved to be great motivation for the teams! Congratulations to Adam Burnside and Shaun Camay for participating, and for donating their awards back to the scholarship cause."
2013 Harry Maziar Classic - Host Committee
The 2013 HMC was chaired by Ron Brill and Howard Halpern.
2013 Harry Maziar Classic - Top Winning Teams

1st place net score: Chad Burchfield, Adam Burnside, Shaun Camay, Ben Wilson
2nd place net score: Todd Bomchel, Bert Rosenthal, Jason Smith, Dustin Walsey
3rd place net score: Stephen McDonnold, Derek Smith, Tanner Smith, Ron Whited
2013 Harry Maziar Classic - Presenting Sponsors
The Hawks Ridge Golf Club, where the 2013 Harry Maziar Classic took place, is an 18-hole private course designed by Bob Cupp, set on 550 spectacular acres, and ranked as one of America's Top 100 golf courses by Golf Digest.
About the Harry Maziar Classic
Proceeds from the Harry Maziar Classic (HMC) help the MJCCA enhance vital programs and services that impact the lives of more than 55,000 people every year, including: Alzheimer's daycare services, programming for people with developmental disabilities, preschools, sports leagues, summer camps, and much more.
Arthur Blank, 2013 Harry Maziar Classic Honoree
This year, the Harry Maziar Classic was proud to honor Arthur Blank. Arthur is the owner and chairman of the Atlanta Falcons. He is also the co-founder of The Home Depot, the world's largest home improvement retailer, from which he retired as co-chairman in 2001. Arthur has given a tremendous amount of support to not only the MJCCA, but countless other organizations in Atlanta. He is an inspirational philanthropist who has made his mark on our city.
Jim Ellis Audi of Marietta is a full-service new and used Audi dealer in Marietta, GA, providing an unmatched level of high quality professional Audi service for the entire metropolitan Atlanta area since 1995. The Atlanta area Audi dealership is recognized by Audi USA, as one of the few Premier Audi Magna Society recipients, awarded to Audi Atlanta Dealers for outstanding business and extraordinary customer satisfaction. They carry the largest inventory of new Audi, certified pre-owned Audi and used cars in Marietta, Georgia and east of Birmingham, Alabama. For more information, visit http://www.jimellisaudimarietta.com.