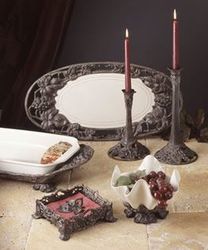 Customers like to buy Arthur Court items because the designs are exquisite, the quality is superior and the price is reasonable
Waynesboro, VA (PRWEB) July 20, 2008
If the words Arthur Court conjure up images of King Arthur and his knights in your mind, or author Mark Twain's time-traveling 1889 novel, A Connecticut Yankee in King Arthur's Court, you may wish to take a trip to the present. Created by visionaries Arthur & Elena Court, Arthur Court Designs® is a collection of aluminum serveware that has delighted hostesses, college sports fans and brides alike for the past 45 years. Attention to detail is a hallmark of Arthur Court, borrowing motifs found in botanicals, sea life, and even architecture. For many years, Arthur Court Designs® have been among the most requested bridal registry items in the country.
Now is a great time to explore the world of Arthur Court Designs, as the company presents their bold new releases for Summer & Fall 2008. Many of these items represent a new look for Arthur Court, and include the re-release of the wildly popular double old fashioned glassware featuring distinctive animal images. Also new for this year are additions to the Sea Life collection including the Seahorse Tray, the Oyster Bowl and the Oyster Tray -- perfect for your beach house or seaside party.
Silver Gallery, the largest independent retailer for Arthur Court, has the new items available on their website. "Even in tough economic times, weddings, birthdays and special occasions continue, and nice gifts are a necessity," says Stacey Strawn, Co-President of Silver Gallery. "Customers like to buy Arthur Court items because the designs are exquisite, the quality is superior and the price is reasonable," Strawn says. "The response to the new pieces has been overwhelming -- we've had to increase our initial order of the new products just to keep up with demand."
Silver Gallery is the only retailer offering engraving of Arthur Court items, adding a personal touch to the perfect wedding or hostess gift.
"This summer's new releases are our best group of new introductions ever, with line extensions in every popular pattern and a new category called Americana," says Neil Peters, Office Manager & Gallery Team Leader for Arthur Court Designs, Inc. "We have generous additions to the growing Tuscan collection, both in the grape and fleur-de-lis styles. Tuscan is such a big departure for traditional Arthur Court customers that we are quite pleased to see the positive sales results. You never know what Arthur and Elena might dream up next."
Explore the world of Arthur Court at Silver Gallery:
New Releases from Arthur Court Designs
Arthur Court Designs
About Arthur Court Designs
Arthur Court and his wife Elena founded this gorgeous line of gifts for the home, and each collection has endured the test of time. With over 45 years in the business, he has become known as a master craftsman & artist. Each piece tells the story of his travels & inspirations. Always adding to his work, Arthur Court's designs please guests and hostesses with their uniqueness and practicality. A portion of all sales of Arthur Court products will fund the wildlife preservation that Arthur & Elena Court hold so dear.
About the Silver Gallery
Located in tiny picturesque Waynesboro, Virginia where the Skyline Drive meets the Blue Ridge Parkway in the Shenandoah Valley, Silver Gallery is a Virginia certified SwAM (Small, Women and Minority) Vendor enjoying national attention. Silver Gallery is a favorite of celebrities, supplying baby gifts to Gwyneth Paltrow and Liv Tyler, and has been the official provider of picture frames for the SAG Awards™ since 2005.
# # #