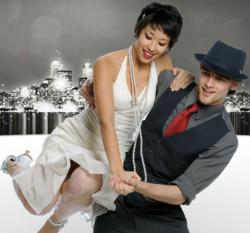 Tickets are available at any Arthur Murray Toronto Dance Studio for $25.00
Newyork, NY (PRWEB) June 28, 2013
Each of the Arthur Murray Dance Studios from across the City of Toronto are coming together to host the Shake, Rattle and Roll Showcase for their friends, family, peers and the general public, at the Capitol Events Theatre on July 14, 2013.
Scheduled to begin at approximately 1 p.m., the showcase, which includes performances by students as young as 18 and up to 70 years old, will display the skills and techniques of Arthur Murray students from the Yorkville, Kingsway, North York and Woodbridge studios, all in one on-stage event. All members of the public are welcome and attendees can expect to take in as many as 75 unique performances, with a focus on swing routines, and a variety of remarkable costumes. Each of the Arthur Murray Toronto performers will be in full, themed-dress for the occasion.
Tickets are available at any Arthur Murray Toronto Dance Studio for $25.00 and offer spectators an opportunity to enjoy a full day of taking in the on-stage performances. For those who want to extend the experience and take part in dancing themselves, dinner tickets are also available for $150.00, which include a full evening of food and festivities once the student performances have ended.
For more information about Arthur Murray Toronto, visit http://www.arthurmurraytoronto.com/ or contact (416)-479-0656.
About Arthur Murray Toronto
For over 100 years, Arthur Murray Dance Studios have been offering professional ballroom dance instruction in both private and group settings. The Arthur Murray approach is the world's most proven method for teaching dance, with millions of successful students worldwide. It focuses on building a strong foundation first and foremost to help even the most inexperienced dancers pick up ballroom dance with ease and confidence.
At Arthur Murray Toronto, we believe dance is an expression and celebration of social life. We are multilingual, with teachers fluent in English, French, Spanish, Russian, Portuguese and Serbian, and fully certified, with a ratio of two instructors per student to offer more personalized attention.