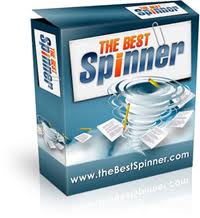 The Best Spinner ™ is an article spinner, online and offline-use enabled, created by Jonathan Leger.
(PRWEB) January 11, 2013
The latest version of popular article spinning software The Best Spinner™ (Version 3) has a new addition to its features for articles in languages other than English. The Best Spinner ™ is an article spinner, online and offline-use enabled, created by Jonathan Leger. Mr. Leger is an internet marketer and software programmer who has been creating commercial software and earning a full-time online income since 2004, after a 10-year experience in the corporate world as a software developer.
The software is now offering users multilingual support, in the form of thesauri in German, Spanish, French, Italian, Swedish, Portuguese (for both Brazil and Portugal users) included in the software package. In addition, the article spinner online synonym database will also allow users to build thesaurus in any other language.
The latest version of The Best Spinner™ also has a feature called the Content Generator, which will allow users to grab content to the spin window. This tool is a database of content in various categories of subjects which customers can use to generate seed articles. The article spinner online subject database can also be used to spin content into unique articles for publishing.
The Best Spinner™ allows users to generate 1000 spun versions of an article at one time. These versions may be then saved to a ZIP file or copied to a Windows clipboard for use. Users may choose to manually spin content by replacing words and phrases with synonyms from the software database. Alternately, the online article spinner allows users to use the 'Auto Rewrite' function to generate a unique article from an existing one automatically and with a single click.
The software features a 'Favorite' synonym list for frequently used synonyms. This allows users to easily replace all the terms commonly used in their articles with synonyms from the list. The software also enables users to compare the original article with spun articles side by side and highlight duplicate sections using a TBS Check tool as a prelude to a Copyscape check.
The article spinner online also displays certain metrics such as the word count of the spun article
as well as its percentage of uniqueness. The Best Spinner™ further offers nested spinning features to enable users to carry out multiple levels of spinning for greater uniqueness. Nested spinning involves spinning phrases within phrases and different spinning tools offer different levels of spinning.
The article spinner online; also has a built-in spelling and grammar checking tool.
The article spinner online synonym database is substantial and accepts user contribution. The software's functionality depends on this database of synonyms suggested by users. Spun articles are created by replacement of phrases with phrases from this database. Users claim that this enables content to be more contextually accurate than dictionary thesaurus. This thesaurus database is constantly updated as thousands of users upload their work online.
The Best Spinner™ is available at a 7-day trial of $7 and henceforth at $77 a year. Purchase makes the software available to users immediately as a download.
Other software offered by the creator includes tools for ranking improvements, such as 3WayLinks and 1WayLinks, which utilize back-linking for higher ranks in search engine indexes.