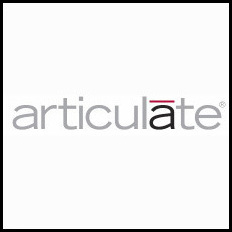 To be honored by Deloitte's Technology Fast 500 Rising Star program, companies must have had tremendous revenue growth over three years, from 2003–2005. Deloitte applauds Articulate for having the long-term vision to develop technologies that change the way we work and play
New York, NY (PRWEB) October 19, 2006 —-
Articulate has been ranked the 15th fastest growing company in North America on Deloitte's 2006 Technology Fast 500 Rising Star list. A special category, the Rising Star list ranks the top 25 companies based on percentage revenue growth over three years (2003 to 2005). Deloitte's Technology Fast 500 is a ranking of the 500 fastest growing technology, media, telecommunications and life sciences companies in North America.
"To be honored by Deloitte's Technology Fast 500 Rising Star program, companies must have had tremendous revenue growth over three years, from 2003–2005. Deloitte applauds Articulate for having the long-term vision to develop technologies that change the way we work and play," said Tony Kern, deputy managing principal of Deloitte's Technology, Media & Telecommunications industry practice.
"Being recognized as the 15th fastest growing company in North America is a great honor," said Adam Schwartz, president of Articulate. "We attribute this impressive growth to our ability to consistently develop remarkable products that our customers love."
In addition to ranking at the 15th fasting growing technology company in North America, Articulate ranked number one fastest growing company in the New York region on the 2006 New York Technology Fast 50 Program Rising Stars list.
Rising Star Qualifications
To qualify as a Fast 500 Rising Star, entrants must have had 2003 operating revenues of at least $50,000 USD or $75,000 CD, for the United States and Canada, respectively, and 2005 operating revenues of at least $5 million USD or CD.
Entrants must be headquartered in North America, and own proprietary technology or proprietary intellectual property that contributes to a significant portion of the company's operating revenues, or devote a significant proportion of revenues to the research and development of technology. Using other companies' technology or intellectual property in a unique way does not qualify.
About Articulate
Articulate is the market leader in rapid e-learning software. Articulate products are used by organizations worldwide to quickly create rich and interactive learning content and communication resources. The company's Rapid E-Learning Studio Professional combines three premier products, Articulate Presenter 5, Quizmaker 2 and Engage, to give learning professionals and subject-matter experts an easy-to-use toolset to create e-learning courses, presentations, quizzes, and surveys. Morgan Stanley, FedEx, Dell, Target, 3M, John Deere, and Harvard Business School are among the thousands of corporate, government, and academic organizations currently using Articulate products for rapid e-learning, which has grown approximately 80% over the last 12 months, according to industry analysts. For more information, visit http://www.articulate.com
About Deloitte
Deloitte refers to one or more of Deloitte Touche Tohmatsu, a Swiss Verein, its member firms, and their respective subsidiaries and affiliates. Deloitte Touche Tohmatsu is an organization of member firms around the world devoted to excellence in providing professional services and advice, focused on client service through a global strategy executed locally in nearly 150 countries. With access to the deep intellectual capital of approximately 135,000 people worldwide, Deloitte delivers services in four professional areas—audit, tax, consulting and financial advisory services—and serves more than one-half of the world's largest companies, as well as large national enterprises, public institutions, locally important clients, and successful, fast-growing global growth companies. Services are not provided by the Deloitte Touche Tohmatsu Verein, and, for regulatory and other reasons, certain member firms do not provide services in all four professional areas.
As a Swiss Verein (association), neither Deloitte Touche Tohmatsu nor any of its member firms has any liability for each other's acts or omissions. Each of the member firms is a separate and independent legal entity operating under the names "Deloitte", "Deloitte & Touche", "Deloitte Touche Tohmatsu", or other related names.
In the United States, Deloitte & Touche USA LLP is the member firm of Deloitte Touche Tohmatsu, and services are provided by the subsidiaries of Deloitte & Touche USA LLP (Deloitte & Touche LLP, Deloitte Consulting LLP, Deloitte Financial Advisory Services LLP, Deloitte Tax LLP, and their subsidiaries), and not by Deloitte & Touche USA LLP. The subsidiaries of the U.S. member firm are among the nation's leading professional services firms, providing audit, tax, consulting, and financial advisory services through nearly 40,000 people in more than 90 cities. Known as an employer of choice for innovative human resources programs, it is dedicated to helping their clients and their people excel. For more information, please visit the U.S. member firm's Web site at http://www.deloitte.com/us.
###