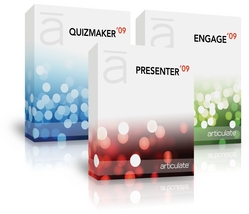 Superb customization functions and a sleek user interface make creating e-learning quizzes a breeze. Now the only limit to what we can develop is our imagination.
New York, NY (PRWEB) October 1, 2008
Articulate, the market leader in rapid e-learning software, has released Articulate Studio '09, a powerful and easy-to-use suite of e-learning development tools.
Studio '09 significantly upgrades popular Articulate products and introduces a new video encoder.
"In the new Studio '09, we've combined requests from our users with innovative features no other company has thought of," said Adam Schwartz, president of Articulate. "It's still easy to look great with our products, and now our users have more power than ever."
Popular new features include branching, animated annotations, and community-developed interactions.
"How can I possibly sum up all the great improvements and feature additions in Studio 09," said Chris Wirick, education services project manager with the IRS. "If I have to pick only one new favorite feature, I'll go with the new branching capabilities. This one new feature alone takes Articulate Studio to an entirely new level of e-learning development."
Studio '09 Professional includes four integrated tools, all with a common user interface: Articulate Presenter '09, Articulate Quizmaker '09, Articulate Engage '09, and Articulate Video Encoder '09 .
Articulate Presenter '09, the popular tool that creates Flash-based e-learning courses from PowerPoint, has been substantially upgraded and improved. New features include:

Animated annotations
Streamlined narration workflow
Branching to different slides
Rich, slide notes formatting
All project files stored in one easy-to-manage file
Quick slide preview without publishing
Sharper, brighter images and better audio and video support
Over 30 other major new features
Articulate Quizmaker has been completely rebuilt. Now users can switch between two development modes: a simple form-based entry screen and a powerful free-form slide editor for total creative freedom. New features in Quizmaker '09 include:

Free-from slide editing that will be familiar to PowerPoint users
Drag-and-drop question management with question groups and pooling
Branching
Custom themes
Question import among quizzes
Easy multimedia placement and timing
"Every once in a while an e-learning application comes along that simply redefines the rules of what is possible - step forward Quizmaker '09," said Jim Riley, CEO of tutor2u. "Superb customization functions and a sleek user interface make creating e-learning quizzes a breeze. Now the only limit to what we can develop is our imagination."
Articulate Engage '09 creates powerful interactions that can stand alone or be integrated in other Articulate projects. Articulate has made the Engage software development kit available free, so now almost any kind of interaction can become an Engage interaction. The new Engage also offers branching, a new summary screen, an easy audio editor, and several other improvements.
The new Articulate Video Encoder '09 quickly converts almost any video into the popular .FLV Flash video format so users can immediately incorporate their videos in any of the Studio '09 tools. Users can trim, crop, and polish videos and apply changes to all videos in a batch. All Studio '09 products play FLV Flash videos.
Articulate Studio '09 is available now from http://www.articulate.com.
About Articulate
Articulate is the market leader in rapid e-learning software. Articulate products are used by organizations in 115 countries to quickly create rich and interactive learning content. The company's Rapid E-Learning Studio '09 gives learning professionals and subject-matter experts an easy-to-use toolset to create e-learning courses, presentations, quizzes, and surveys. UBS, FedEx, Dell, Target, 3M, John Deere, and Harvard Business School are among the 15,000 corporate, government, and academic organizations using Articulate products for rapid e-learning. Articulate was ranked the 15th fastest growing technology company in North America by Deloitte on their 2006 Technology Fast 500 Rising Star list.
###