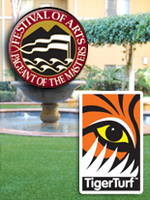 "We wanted to create a better atmosphere... We have high traffic and regular grass would turn to dirt over time. Synthetic grass looks clean and lasts." said Gary Fowler, Director of Operations.
Laguna Beach, CA (PRWEB) April 8, 2010
Laguna Festival of Arts (Pageant of the Masters) has recently installed Tiger Turf brand synthetic grass on their festival grounds in Laguna Canyon. The two-month long event attracts a quarter of a million visitors each year. With so many visitors, landscape functionality is of significant consideration for the patrons. Licensed Tiger Turf installer, OC Turf and Putting Greens were in charge of the installation. Being a non-profit organization, Laguna Festival of Arts was in search of a cost-effective landscape job that would outlast that of natural grass.
Gary Fowler, Director of Operations, said, "We wanted to create a better atmosphere for patrons to look at art, grab a glass of wine, and attend all of our events. We have high traffic and regular grass would turn to dirt over time. Synthetic grass looks clean and lasts." Tiger Turf brand artificial grass proved to be the best value for the non-profit organization. Customized grass products were used to fit both the aesthetics and function of the Laguna Festival of Arts. Synthetic grass proved to be more durable than regular grass for the amount of visitors the festival expects this year. The festival will last from July 5-August 31 this summer.
Synthetic Grass Warehouse has supplied Tiger Turf for several commercial landscape projects. Located in Northern Orange County, it is the largest supplier of synthetic grass globally. Tiger Turf products are designed with state of the art yarn compositions that make it the most durable and realistic looking artificial grass products on the market today. Exclusive to the Tiger Turf brand is unique infill, called Durafill. Durafill does not degrade over time like regular infill, allowing for a durable and permeable drainage system. Each of Synthetic Grass Warehouse's certified installers had to go through a rigorous training course to obtain certification. These installers are the most proficient and knowledgeable about synthetic grass.
Tiger Turf has been commercially installed in other Orange County establishments, including a local Taco Bell in Mission Viejo. Other commercial projects have taken place on the Las Vegas strip and the Federal Building in San Diego. With the increase in synthetic grass commercial landscaping, Tiger Turf has provided businesses with many benefits. From competitive pricing and quick ROI, to customized landscaping and durability, Tiger Turf is ideal for any business. Tiger Turf products are designed to custom fit a variety of styles and landscape environments, as installers work with walkways, medians, and business entrances to create natural and aesthetically beautiful surroundings.
Businesses have chosen to take the synthetic grass route due to its cost effectiveness in the long run. Over time, significant amounts of money can be saved on energy and water bills, as well as maintenance and labor. The return on investment for synthetic grass is within 3.5 years. Companies that are eco-friendly or sustainable have looked to artificial grass as a way to minimize their business' carbon footprint and increase conservation. Artificial grass is both a financially sound and functional investment for businesses and establishments.
###