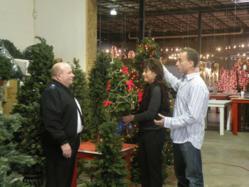 TreeTime's pioneering of this all-new Christmas charity event has brought the company closer to the community by working together to make a difference for others less fortunate.
Lake Barrington, IL (PRWEB) December 29, 2011
Throughout the month of October, TreeTime Christmas Creations made it their mission to collect as many slightly used artificial Christmas trees as possible from local residents in an effort to give back to those less fortunate. In less than a month, they managed to collect over two truck-loads of artificial Christmas trees from hundreds of generous Americans.
With TreeTime's popular Lake Barrington, IL Christmas showroom used as the central drop-off point, the Salvation Army was able to quickly mobilize the donated artificial Christmas trees in November for transit to their many local Sally Stores for distribution throughout the Christmas season. There, each artificial Christmas tree was freely given to deserving residents throughout Illinois.
It was estimated that TreeTime received nearly 3,000 inquiries via phone and email in October alone in regards to the charity drive. "The local response was far greater than anything we could have expected," said Joe Kane of TreeTime. "Several of the individuals who donated artificial Christmas trees did so without expecting anything in return."
"We were really happy to see how many people came out and were willing to donate everything from unlit to pre lit Christmas trees of various sizes," said Envoy of The Salvation Army Metropolitan Division. "We collected several 9' and 12' artificial Christmas trees, right down to small tabletop Christmas trees. Thanks to the dedicated people at TreeTime to the many others who donated that helped make Christmas a little brighter for families in need. Through charity, we also prevented hundreds of unwanted artificial Christmas trees from possibly being disposed of improperly, which could have caused harm to our environment."
TreeTime is quickly becoming known as a top-shelf brand in designing the best artificial Christmas trees, wreaths, and garland in America. With the largest selection of Christmas trees online and their award-winning Christmas showroom, TreeTime is continuing to expand to great new heights in 2012 and beyond.
About TreeTime™:
TreeTime specializes in the design and distribution of premium artificial Christmas trees, trim, and holiday decorations available online or at their 50,000sq/ft Christmas Showroom in Lake Barrington, IL. Their attention to quality, service, and customer satisfaction has been a staple to the company's meteoric rise in popularity and demand nationwide.
TreeTime's Winter-Wonderland Showroom after-Christmas sale hours are as follows: Monday through Friday 10:00am-6:00pm, and Saturday/Sunday 10:00am-5:00pm. Located at 22N102 Pepper Rd in Lake Barrington, IL 60010.
For more information, please call TreeTime at 847-527-8880 or visit them online at http://www.treetime.com.
###