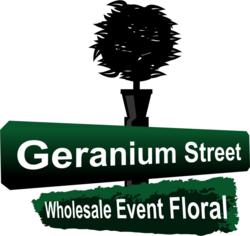 We are always grateful to learn of the many ways our customers have creatively applied our products in their environments
San Marcos, CA (PRWEB) May 17, 2013
Today, growth-ready Geranium Street Floral shares news that increasing numbers of its clients have used its Artificial Ivy Fence Roll product as highly effective camouflage for abandoned properties, to obscure valuables, even to keep home gardens safe from unauthorized harvests.
The value of Geranium Street Floral's Ivy Fence Roll as a perfect disguise was recently identified in a story it published about a family in Houston, TX that used the artificial product to help their family get close to broad-winged, vividly-colored butterflies.
The family planted its entire yard with flowers and nectar plants to attract the butterflies to eat, lay eggs and return the cycle over and over. Caterpillars, which morph from pupa to butterflies after 14 days in chrysalis, look for weather protection, plant stability and coverage of leaves to keep them safe from predators.
The artificial leaf privacy foliage provided by Geranium Street Floral provides stability and foliage protection is great and predators don't check the area out. Why? The foliage is not real, so aphids and insects like spiders and beetles have no interest in exploring for hanging chrysalides.
Bob Smith, Geranium Street Floral manager says: "We are always grateful to learn of the many ways our customers have creatively applied our products in their environments."
Smith says the Ivy Fence Roll from Geranium Street Floral has also been used to created shade for dog runs, as a hummingbird refuge perfect for video footage capture and to obscure a fenced off area from view. "Our biggest commercial use of artificial Ivy Fence Roll has been for a high-profile golf course in Indio, CA that wanted to obscure unfinished homes from golfer eyesight, and protect golfers from having their photos captured without consent," Smith said.
The artificial foliage Smith refers to here covered a seven-foot chain link fence and effectively shielded views from both sides of the fence.

Wondering if Ivy Fence Roll is for you? Watch this You Tube video which shows the Ivy Fence Roll product and how easy it is to use.
For more information on Geranium Street Floral's Ivy Fence Roll and other available artificial flowers and plants from Geranium Street Floral, call (858) 525-2251 or visit http://geraniumstreet.com/.