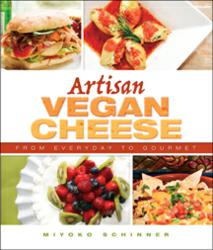 Miyoko has found the holy grail of the culinary world.
Summertown, TN (PRWEB) September 05, 2012
Artisan Vegan Cheese by Miyoko Schinner is generating a lot of excitement. Vegans and those who are lactose intolerant find that cheese is one of the most difficult foods to give up. Now they can make at home non-dairy cheeses that retain the sharpness and complexity of their dairy counterparts.
Slice it, melt it, bake it or spread it,enjoy popular varieties such as Brie, Boursin, Cheddar, Chėvre, Gouda, Gruyėre, Monterey Jack, Mozzarella, Parmesan and Provolone. Garnering their cheeselike qualities involves a process of culturing and varying degrees of aging. While the prep time is relatively short, the aging process is key to success. In today's world of instant gratification, a little patience is deliciously rewarded. Besides being flavorful, these dairy-free cheeses are healthful containing no animal fat or cholesterol. Neal Barnard, president of the Physicians Committee for Responsible Medicine, stated: "Miyoko has found the holy grail of the culinary world."
With cheese(s) on hand, a myriad of culinary applications from appetizers to desserts await. Fettuccine alfredo, calzones, Spanakopita, chiles rellenos, Eggplant Parmesan, macaroni & cheese and kid-friendly grilled cheese sandwiches are a few favorites to be enjoyed. Ricottas and sliceable cheeses can easily be made for immediate use.Tiramisu, cannoli, cheese danishes and San Francisco Cheesecake are part of the line-up of decadent desserts.
A former restaurateur and entrepreneur, Miyoko has been a recognized presence in the natural foods industry for thirty years. Book Publishing Company has published all of Miyoko's cookbooks. Her first, The Now and Zen Epicure (1991), elevated vegan fare to gourmet status. Her second cookbook Japanese Cooking Contemporary and Traditional (1999) utilized meatless substitutes in traditional dishes and regional specialties for a truly unique vegan Japanese cookbook. In 2001 The New Now and Zen Epicure further delighted those with gourmand palates.
While taking time off to raise her family, Miyoko perfected the techniques to making these non-dairy cheeses that have been astounding peers and audiences. The Sept./Oct. VegNews Magazine is designated as The Cheese Issue with both the cover and inside feature article shining a spotlight on Miyoko's artisan vegan cheeses.
Miyoko is one of the hosts of a new vegan cooking show,Vegan Mashup produced by Delicious TV that is in distribution for National Public Television this fall. Devoted to having plant-based cuisine go mainstream, Miyoko's web site features a blog, Vegan Ventures, and television show, Miyoko's Kitchen, providing tips and delicious vegan solutions that satisfy everyone's culinary needs.
Media requests for an author interview or a review copy can be directed to Liz Murray.