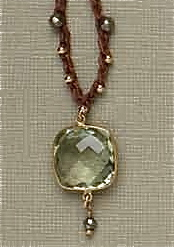 Handcrafted luxury with an indie-vibe.
Franklin Lakes, NJ (PRWEB) January 17, 2012
Rising artisan jeweler of Franklin Lakes, NJ, SKM Artworks, offers a collection of meaningful wearable art created by weaving stunning jewels and precious metals within Irish waxed linens and certified-green leathers...rustic and spiritual with a luxury twist. These unique pieces of artisan jewelry convey individuality, satisfy the desire for social contribution and make any woman feel as good as she looks.
Two items to debut in Arhaus Jewels' January Catalog and at their on-line store are "Spring" and "Cubed"; unique finds from SKM Artworks Neckworks Collection featuring gorgeous faceted green amethyst presented in an unusual way.
Since founding Arhaus Furniture and Arhaus Jewels in 1986 and 2009, respectively, John Reed has believed in using sustainable materials, respecting our planet, and giving back whenever possible, all values that SKM Artworks share, making the new partnership a perfect fit.
Arhaus states, "Arhaus Jewels is a collection of our most prized and precious finds. This assortment embodies all the ideals we hold most dear; an appreciation of creativity, individuality, partnership, natural materials, and of course, beauty. Along the way, we made sure to honor this planet we all share, by advocating the use of sustainable and recycled materials. It's nice to know that in expressing your individuality and personal style through these unique treasures, you're doing a world of good."
Miller's core values for SKM Artworks echo Arhaus Jewels' vision.
1. Celebrate individuality through unique handcrafted design. Owner and lead artisan Susan Miller handcrafts her pieces using techniques she developed to merge the craft of crochet with the art of jewelry making. By carefully choosing the gems she works with, Miller has managed create an affordable line with striking visual appeal and amazing stylistic flexibility. These are versatile pieces that morph easily from day to night -- think equally at ease running around town or on the red carpet and you're starting to get the picture.
SKM Artworks fits today's consumers dismissal of mass produced, cookie-cutter fashion. "People everywhere are recognizing their desire for products made for an individual by an individual" explains Miller, "That's what the handmade movement is all about and that's what we do. This is not jewelry as status symbol. This is jewelry as self-expression".
2. Use of natural materials in a creative way. Miller describes her jewelry as "handcrafted luxury with an indie vibe". Using sustainable materials where possible, her unique style of weaving gorgeous jewels and precious metals within waxed linen and certified-green leathers gives the collection an organic appeal that feels as if it's been grown rather than made. Adding to this are the marvelous finds resulting from a constant search for antique and reproduction artifacts--from Buddhist symbols to Roman Coins and antique gaming chips--all presented in a manner that conveys an innovative style with an eye for the classics.
3. Do well while doing good. Miller's own social work background ensured that SKM would have a mission greater than exclusively offering beautiful hand woven jewelry. Since founding SKM Artworks in 2010, Miller has supported many local NJ charities in addition to designing and selling items where proceeds benefit specific charities; the "iHug Wristhug" that benefits the iHUG Foundation – a grassroots organization serving many of Uganda's most impoverished children; and "Ignite" for Kula for Karma, a non-profit offering therapeutic yoga and stress management, at no cost, to at risk populations.
"I don't just want people to look great while they're wearing our pieces. I want them to feel great, too," Miller says. "They can do that knowing who we are and what we stand for. Knowing that Arhaus shares our sentiments makes working with them and their customers even more exciting and wonderful."
SKM Artworks is currently available on-line at http://www.shopSKM.com, and beginning January 16th at http://www.arhausjewels.com. Also available at various exceptional east coast boutiques and jewelry stores. Retail prices for SKM's necklaces range from $65-$299; earrings, $45-$125; bracelets $69-$199.
###