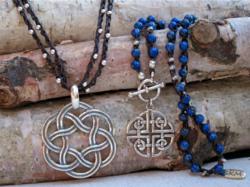 The intricacy and symmetry have an archetypal allure.
Franklin Lakes, NJ (PRWEB) February 28, 2012
SKM Artworks trademark weaving of stunning jewels, precious metals and meaningful artifacts within Irish waxed linens and natural leathers results in a rustic and spiritual collection of jewelry with a luxurious twist. These unique pieces of artisan jewelry convey individuality while satisfying the desire for social contribution, making any woman feel as fantastic as she looks. For St. Patrick's Day (and everyday), she'll feel great wearing the perfect Celtic jewelry gift, whether given to herself or from loved one.
Through a natural marriage of Irish waxed linen and sterling silver Celtic knot pendants, several of SKM Artworks original hand-crocheted designs are reminiscent of ancient times when gifts of jewelry, clothing, and housewares adorned with Celtic Knots were offered to provide best wishes for longevity or luck with new endeavors. Today the beauty of a Celtic knot whether Trinity, Infinity, Spiral or Love suggests an absence of beginning and end, reminding us of the timeless nature of our spirits.
Unique finds expressing the history of the Celtic knot from the SKM Artworks' Neckworks Collection includes "Still Waters Run Deep", which invokes images of the River Shannon with ocean blue lapis lazuli beads woven onto a dark brown Irish linen and finished with a sterling silver infinity Celtic knot. "Serenity Now" makes a strikingly simple statement with an infinity Celtic knot focal pendant and accents of silver beads hand-woven on a rich brown Irish waxed linen. Or choose to make a stunning statement with "Infinity Plus One", the largest of SKM Artworks' sterling silver Celtic knots with the versatility to be worn long or short.
These Celtic inspired pieces are being offered for 25% off during the month of March at SKM Artworks' online store. Owner, Susan Miller states, "Although not Irish myself, I've always felt a connection to the beauty and balance of Celtic symbols and love to use them in jewelry design. The intricacy and symmetry have an archetypal allure that we add our own twist to. Having recently learned of the custom of giving Celtic gifts within Irish communities for St. Patrick's Day, we became excited at the opportunity to participate in the tradition."
In a culture in which designs become trademarks of fashion, certain symbols of Irish culture are recognized internationally. Legend holds that St. Patrick used the three-leafed green shamrock to explain the Holy Trinity to the pagan Irish. Thus ensued the general association of the color green with all things St. Patrick. However, before shamrocks and shades of green, the Celts gave us their mystic or endless knots. As early as the 3rd and 4th centuries AD, Celtic knots were first seen as an art form finding their way into mosaic floor tiles. Symbolizing the sign of the cross, Celtic knots became a national hallmark of Irish, Welsh and Scottish heritages.
This unique collection is currently available at http://www.shopSKM.com and various exceptional east coast boutiques and jewelry stores. Retail prices for SKM's necklaces range from $75-$299; earrings, $45-$125; bracelets $75-$199.
###