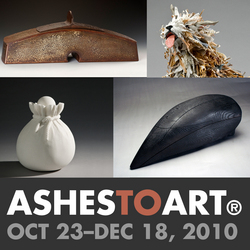 the nation's first art gallery dedicated to cremation urns and personal memorial art
Graton, CA (PRWEB) September 15, 2010
FUNERIA's 5th biennial exhibition of original artist-made funerary urns, vessels that can be used to contain cremated remains of people and pets, and personal memorial artwork that will serve as mementos of a live well-lived, opens with a reception from 6-8 p.m., Saturday, October 23, 2010 at the international arts agency's Art Honors Life® gallery, 2860 Bowen St., Graton, CA in the midst of Sonoma County's vineyards, orchards and an hour north of San Francisco. A specially curated group of pieces selected from among the more than 250 entries submitted by artists from 16 states and 7 other countries, from Finland to Australia, will be installed in the gallery, while the full exhibition of 100 artworks by 50 finalists and 4 guest artists will also be presented online through October 2011 and in a printed exhibition catalog. The artworks, each of which is intended to honor life, range in design, form and function over the broadest range of media.
Among them are biodegradable urns in the shape of drawstring purses and intended to shelter a treasure but hand carved from a solid block of white salt by Ante Marinovic. Marinovic, a master stone sculptor better known for his monumental public artworks located throughout the world--including the entry plaza to the Denver Bronco's stadium, joined San Francisco-based artist and designer Candace Barnes as the lead jurors for the exhibition. Marinovic is one four invited guest artists. The other three include: Outsider artist and singer-songwriter Nancy Josephson who is inspired by Haitian Vodou spiritual practices; Tony Knapp--whose popular whimsical black steel and sumi-ink saturated sculptural forms are being enjoyed as artworks alone, though will ultimately be used to contain the cremated remains of art collectors from New York to California. The fourth invited artist is Nancy Winn who is creating personality-rich papier mache urns for pets and cherished animals exclusively for FUNERIA. Winn is the newest addition to FUNERIA's Portfolio of artists whose work is available to order and commission.
Other selected works include turned and carved wood, glass, ceramic, stone, mixed media pieces, cast bronze and forged steel sculptures that future explorers will recognize as the most beautiful and superbly crafted memorial artwork being made by artists in the 21st century.
Registered website visitors will be able to choose their favorite for a People's Choice Award. All award-winning work will be announced at the opening reception with the exception of the People's Choice as voting will remain open through the December 18 afternoon closing reception. The top vote recipient will be announced the following day, online. Both events are free to the public.
The two-day opening weekend, October 23-24, also benefits the Redwood Funeral Society with 10% of the exhibition's sales proceeds being donated to the recently revitalized regional non-profit that serves the north Bay counties of Marin, Napa, Sonoma, Solano, Mendocino and Lake. RFS is a volunteer-run organization dedicated to protecting a funeral consumer's rights to choose a meaningful, dignified and fairly priced funeral. Its website and publications include helpful information on funeral planning and consumer education and it is affiliated with the national Funeral Consumers Alliance. The advocacy group is hosting its own annual meeting from 2-6 p.m., Saturday, October 23, at the Glaser Center in Santa Rosa, California. Keynote speaker is journalist Mark Harris, former environmental columnist with the Los Angeles Times Syndicate and author of Grave Matters: A Journey Through the Modern Funeral Industry to a Natural Way of Burial.
About FUNERIA LLC
FUNERIA, founded in 2000, is a pioneering contemporary funerary arts agency, international exhibitions organizer and in 2007 opened "the nation's first art gallery dedicated to cremation urns and personal memorial art" (The New York Times, 1/18/07). The Northern California-based firm, its exhibitions and activities, have been featured prominently in The Los Angeles Times, The Boston Globe, Financial Times, The New York Times, on CNN, NBC, on KQED public radio's "The California Report" and in additional local, regional and international print, broadcast and online media since the first Ashes to Art® show opened in 2001 at San Francisco's historic Fort Mason Center. FUNERIA and its Art Honors Life® gallery are located 1 hour north of San Francisco in the west Sonoma County town of Graton.
Media Advisory: Please contact us for high resolution images that reflect artworks in all media and styles by both established and emerging artists. The artwork ranges from elegantly solemn reliquaries to charmingly whimsical full size urns.
###