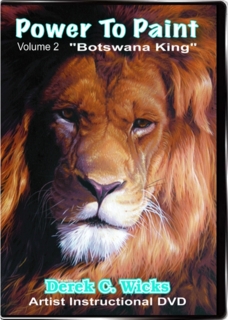 After realizing the popularity of my art instruction seminars, I decided to produce a few videos showcasing the popular techniques I teach to students
Toronto, ON (PRWEB) June 22, 2006
Wildlife artist Derek C. Wicks announces the release of 3 art instruction DVDs.
"After realizing the popularity of my art instruction seminars, I decided to produce a few videos showcasing the popular techniques I teach to students," said Derek Wicks, wildlife artist and instructor.
Targeted to teach student's different textures and techniques, these DVDs provide full step-by-step audio and video instruction. Artists and art students at any level will find these DVDs very helpful. Derek covers a variety of topics including; difficult textures like fur and feathers, challenging structures such as landscape, warm and cool color applications and studio techniques such as airbrush and dry brush.
From "Blocking In" to "Final Detail" art students will be treated to first class instruction from one of the Wildlife Art: 60 Contemporary Masters.
The Power To Paint DVD Collection is available online at http://www.powertopaint.com/
Derek C. Wicks artwork is published by Wild Wings LLC Lake City, MN
Derek Wicks can be contacted by telephone at (705) 835-5480.
# # #