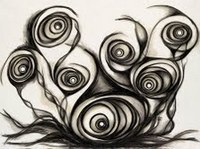 It's amazing how people are drawn into my work and what they see
Winston Salem, NC (Vocus) June 30, 2010
Winston-Salem, NC (Vocus) June 29, 2010 -- American artist Emily Clare never dreamed that her contemporary art would find its way to the American Turkish community and then to Istanbul, where her depictions of images to ward off the evil eye have been so enthusiastically received that she has sold a number of the expensive drawings.
The evil eye is a common motif in Turkish art but is less familiar to Americans than to other global peoples, particularly around the Mediterranean, some of whom have feared the evil eye's effects since antiquity. Merely the gaze of a person purported to have an evil eye can do harm. Just one glance, they often believe, and one's fertility can be compromised -- or other forms of evil may befall a person.
In the modern Turkish culture, images to counteract the evil eye are frequently depicted as large and sometimes colorful abstract eyes. It is common to find these images in Turkish art and culture, in Turkish homes and on the office walls of powerful Turkish business executives. That these images are beautiful is almost beside the point, because to those who believe (and there are many across all cultures), the power to repel evil has incalculable value. Amulets, jewelry and talismans with the images are commonly available online and in shops around the world.
"I had done a series of lithographic crayon and turpenoid drawings over the years that I call Seeing From Within," says Clare. "They were abstract expressions of human relationships. I had no thought whatsoever about evil eyes."
Her theme was a variety of circular images filled in with swirling lines. Depending on their size and arrangement, the images have been compared to many things, from flowers to the knots of a tree. But a Turkish businessman to whom she was introduced immediately got the cultural connection.
"It's amazing how people are drawn into my work and what they see," Clare exclaims. "I showed him a tiny image on my cell phone, and he immediately recognized even from that small picture a form of the Turkish icon that provides protection from the evil eye -- and is said to even direct another person's ill intent right back at him.
"The businessman invited me to visit Istanbul, and during my trip his family was gracious in providing me with a deeper understanding of how my art relates to Turkish culture. I returned to North Carolina with a different perspective and have used it in my work."
Four of Clare's images now hang in the Istanbul offices of Habboush Group, Istanbul. Another is in the offices of Tasyapi Enerji Grubu, also in Istanbul.
Readers interested in learning more about Emily Clare's evil eye-related work, or her earlier work, are invited to visit her web site: Emily Clare Studio.
About Emily Clare:
Emily Clare began her art career by painting furniture with bold, bright colors that buyers either hung on their walls or used as architectural objects -- in what amounted to a one-woman quest to banish bare white walls forever. As her life evolved, she began exploring its emotional twists and turns with graphite and colored pencils on paper, producing a series of images that have been called "organically expressionistic." Clare has exhibited extensively, and her work has been purchased by GlaxoSmithKline, Research Triangle Park, NC. Her work also is included in the collections of College of Charleston and Peabody College, Nashville. She is represented in numerous private collections, including those of Habboush Group and Tasyapi Enerji Grubu, Istanbul. Her work has been sold in museum shops, including The Renwick Gallery of the Smithsonian American Art Museum, The Winterthur Museum, The Cheekwood Museum of Art, and Houston Museum of Modern Art. Emily Clare has two grown children and lives in Winston-Salem, North Carolina.
Contact:
Emily Clare, Artist
emilyclarestudio(at)gmail(dot)com
http://www.emilyclarestudio.com
###