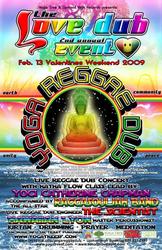 This spiritually enriching evening will begin with a Native American blessing by Virgil Freeman of the Pit River Tribe. There will a Hatha Yoga session, followed by a guided meditation for inner healing, both conducted by Catherine Chapman of Yoga Tree San Francisco
San Francisco, CA (PRWEB) January 21, 2009
San Francisco Ca -- Yoga Tree and Upmost High Records, in conjunction with Artistpr, present: A BENEFIT SHOW FOR CHILDREN WITH H.I.V. who are supported by the Seeds of Light Foundation and Power to the People Foundation.
"This inspirational and humanitarian Love Dub Event is happening at the perfect time to open up your heart and share your love with those in need," says music promotion publicist John Mahoney from Artistpr.com Don't miss the Love Dub Event on Friday, February 13th, 2009 from 8:30PM -12:00AM at Yoga Flow Castro. Address: 97 Collingwood at 18th. San Francisco Ca 94114 Phone: 415 701-9642 Tickets are $40 each, and 15% of this event's profits will be donated to your charity of choice: Power to the Peaceful, Seeds of Light or the Surfrider Foundation.
The Ragga Soul Jahs, Reggae Engineer, The Scientist, and Hawaiian Lyon will come together with Catherine Chapman of Yoga Tree San Francisco for one unforgettable event promoting Unity, Love, Dub, Reggae and Yoga, in which we will meditate upon love through music and movement.
"This spiritually enriching evening will begin with a Native American blessing by Virgil Freeman of the Pit River Tribe. There will a Hatha Yoga session, followed by a guided meditation for inner healing, both conducted by Catherine Chapman of Yoga Tree San Francisco," said music publicist
John Mahoney of Artistpr.com
The meditation class is accompanied by All Star Ragga Soul Jahs, who will be joined onstage by master percussionist, Hawaiian Lyon. The music will be mixed live by Dub legend, Hopeton Brown, aka, "The Scientist." The Scientist, who comes from Kingston, Jamaica, is world-renowned for his unique, highly creative dub skills. The Scientist has mixed over 250 albums for major musicians, ranging from Bob Marley and The Wailers to the Rolling Stones. The Scientist and Hawaiian Lyon have joined forces in the last decade, creating many tours and albums in the spirit of one love. Hawaiian Lyon is internationally known for his Reggae and Worldbeat dub styling, as well as Nyabingi drumming. Hawaiian Lyon is one of the creative forces behind The Love Dub event, and has played with Don Carlos, Eek-A-Mouse, and Ras Michael. Hawaiian Lyon's original music inspired Catherine Chapman to assemble an event honoring love, community, and unity.
The event will also include Kirtan, lead by Mirabai, Janet Stone, Christopher Love, and Elizabeth Rosser. Surrounded by the live sounds of Dub meditation music, we will move, breathe, and connect with our souls and each other during this peaceful, harmonious experience. We hope to create a wave of love that travels around the world!
Love Dub is a limited engagement at the Yoga Flow Castro. Address: 97 Collingwood at 18th. San Francisco Ca 94114 Phone: 415 701-9642 for 150 people. The first annual event sold out, so hurry and buy your tickets now! This event will be videotaped by Upmost High Records, and the concert will be engineered by The Scientist. Publicity for Love Dub is provided by Artistpr.com, Hollywood, CA.
Sponsors for Love Dub are: Satori Clothing, Yoga Tree, and Upmost High Records. We gladly welcome additional sponsors. If you would like information on being a sponsor please email
Artistpr at artistpr6(at)yahoo(dot)com
For more information, please check out the following links:
yogatreesf.com
myspace.com/yogareggaedub
###